Despite having to wait an extra half-hour to make their Lamar Hunt US Open Cup debut, Southern States Soccer Club made the most of their opportunity with a 3-1 victory over the visiting Georgia Revolution in a first-round match between NPSL sides in Hattiesburg, Miss.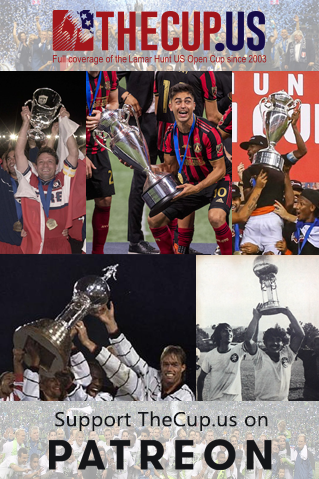 A second-half brace by Man of the Match Thomas Shepherd secured the victory for the Open Cup debutants. He put away a tap-in off a pass from Clayton Adams in the 65th minute, then volleyed home on the back post from the service of Jean Lucas Rivera eight minutes later.
Due to the wet and windy conditions that prompted a 30-minute delay before the opening kickoff, both teams took some time to find their footing. However, once Matt Walsh sent in a dangerous corner kick in the 19th minute that would have resulted in an own goal if not for the quick reactions of Georgia's Chris Banfi, the action picked up.
Two chances presented themselves in quick succession for the Southern States Stars, forcing a Banfi save and block by a Revolution defender. Rivera followed that up with a header off a pass from Walsh in the 20th that Banfi parried away, portending the future connection between Walsh and Rivera. Though Banfi had stood tall, SSSC finally broke through in the 26th when Walsh whipped in a cross from the left wing that was volleyed in by Rivera at the penalty spot, just under the Revolution keeper, to give the hosts a 1-0 lead.
The Revolution — making their third Open Cup appearance and first since 2013 — had chances to level the match as the clock marched toward halftime, but ultimately the Stars carried that 1-0 advantage into the break.
Hector Grejada, the Stars' keeper, was presented with a few challenges by the visitors in the opening minutes of the second half but made sure they came away empty-handed.
The Revolution did manage a consolation goal in the 82nd, when Alexander McIlroy connected with Karim Tmimi on a short free kick, but SSSC ultimately controlled the second half of action after Shepherd broke the match open with his two goals in quick succession.
With the win, Southern States Soccer Club earned the right to face the Birmingham Legion of the USL Championship on the road in a Second Round match on April 7.
MATCH BROADCAST