Call it beginner's luck, but UPSL side Oyster Bay United FC — a club that came into existence just eight months ago — came flying out of the gates in their Lamar Hunt US Open Cup debut on Tuesday night, defeating Hartford City FC 3-0. Three first-half goals put Oyster Bay in control at Dillon Stadium in Hartford, Conn., and the home side showed few signs of life in the second half.
Led by their 26-year-old manager Jose Esqueche, a former professional player for Venezuelan club Metropolitanos FC, Oyster Bay looked confident against a Hartford City squad that had only played three matches in 2022 heading into this First Round matchup.
"It was a tight game for the first ten, thirteen minutes," said Esqueche about his team's performance. "We tried to play our football in the midst of being the visitors. It was difficult, but very happy with the result from the players."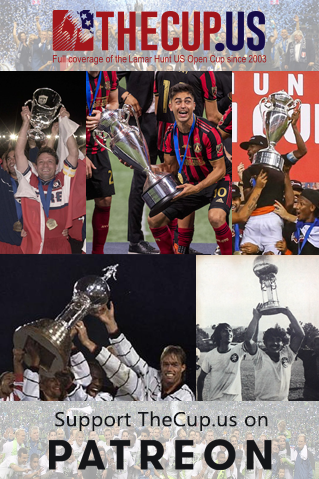 Oyster Bay forward Junior Rosero opened the scoring in the 16th minute and assisted on the other two goals. Franco Paz netted the second off a pass from Rosero with a stunning shot that went in off the crossbar in the 32nd. Yet another critical pass from Rosero set up Sebastian Ruiz just before the halftime whistle to make it a three-goal lead.
The only cause of real concern for Oyster Bay came in the 39th minute, when defender Dillon Woods appeared to strike a Hartford City player in the back of the head after a tackle. Woods ended up with a yellow card.
The second half saw plenty more yellow cards, but no goals as Hartford City showed no signs of a comeback. The game saw eight bookings in total, with five coming in the second half. Hartford City struggled to create chances as Oyster Bay focused on maintaining possession.
Hartford City defender Lucas Cunha had two free kick opportunities in the second half, but neither found their target — they were the only real chances on goal for the NPSL side. Oyster Bay out-shot the home side 15-4 and maintained 54% off the possession.
"I think we came out strong in the first half, we stuck to our game, we kept the clean sheet, that's what we really wanted and we got through to the next round," said Oyster Bay defender Akeem Morris.
Oyster Bay will return to Dillon Stadium in two weeks' time to face USL Championship side Hartford Athletic in the Second Round on April 7.
"From the start of this cup, it's the objective of this club to show itself against a second or first division team," said Esqueche. " already preparing and game-planning for Hartford Athletic, who are the locals at Dillon Stadium. It's a great opportunity for the men, the club, coaches and staff to compete at that level."
David Tovar also contributed to this report
Scoring Summary
Oyster Bay: Junior Rosero (Unassisted) – 16th min.
Oyster Bay: Franco Paz (Junior Rosero) – 32nd min.
Oyster Bay: Sebastian Ruiz (Junior Rosero) – 45th+2 min.
Booking Summary
Oyster Bay: Dillon Woods (Yellow) – 39th min.
Hartford City: Lucas Cunha (Yellow) – 42nd min.
Hartford City: Andrew Geres (Yellow) – 44th min.
Hartford City: Sebastian Stezewski (Yellow) – 53rd min.
Oyster Bay: Said Giorgini (Yellow) – 53rd min.
Oyster Bay: Akeem Morris (Yellow) – 56th min.
Hartford City: Leo Germiniani (Yellow) – 75th min.
Oyster Bay: Luis Altuve (Yellow) – 77th min.