OCEAN CITY, N.J. – After trading early goals in the first half, a tight 1-1 match played in windy and rainy weather conditions a couple hundred yards from the Atlantic Ocean had to be decided by a penalty kick shootout Wednesday night with Lansdowne Yonkers prevailing over hosts Ocean City Nor'easters.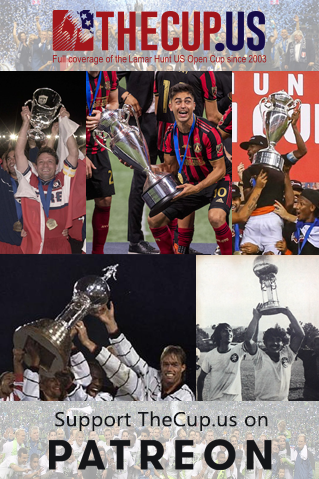 "Conditions played a massive part," Lansdowne Yonkers FC forward Shamir Mullings said after the match. "They were a great side, they didn't give up and we pushed and pushed and had loads of chances."
Mullings, who also serves as the New York club's technical director, scored the equalizer in the 12th minute to cancel out a goal from Pablo Da Silva Marques that had given the hosts the lead four minutes earlier. Marques was able to beat Lansdowne goalkeeper Kabo Danso on a knuckling ball, shooting as he was falling down after collecting a pass from Jason Plumhoff from the near the corner flag on the right side.
Minutes later, Paul McVeigh sent a long ball down the right side of the field that Mullings was able to get to first and fire past Keasel Broome to level the score.
Lansdowne had the better of the chances the rest of the way but as weather conditions worsened the play on the field suffered too with both teams getting a fair share of opportunities on set pieces after fouls. Marques put his teammates in a bind after earning a second yellow – minutes after his first – with a late challenge out of bounds but the visitors from Yonkers were unable to find a winner and the game went to penalties. 
After 37-year-old Ocean City native Adam Sternberger converted their first kick, the Nor'easters found themselves in a hole with a miss and a save by Dabo, but a miss from Lansdowne and a save by Broome leveled the shootout at 3-3 after five rounds. Mullings was able to beat Broome to open the sixth round of kicks and another miss from Ocean City's Leandro Louro ended the evening with the rain still swirling and Lansdowne celebrating.
"We've put everything into getting here," Mullings said. "It means so much to us."
After winning just about every piece of hardware they could competing in league and state, regional and national cups over the past year, the reigning National Amateur Cup champions were finally able to add an Open Cup victory to their list of recent accomplishments after two straight cancellations of the oldest competition in American soccer. Lansdowne won a first round match in their last appearance in the competition in 2018 and advanced to the third round in 2016 after upsetting the Pittsburgh Riverhounds. (Danso was the goalkeeper in that Riverhounds upset, winning TheCup.us Player of the Round honors)
"The last few years, it's been tremendous," Lansdowne head coach Sean Kelly said after the match. "This group has come a long, long way."
The travel and the weather conditions made it a tricky fixture for Lansdowne despite the advantage they had as a side with more recent experience playing together. Since Ocean City is a summer team that relies heavily on college players, they had to scramble to field a team of alumni who showed well in the match against a team that has played countless games together. In the end, that sharpness showed with the Lansdowne penalty kick takers showing a more clinical edge from the spot.
"This group deserves it," Kelly said. "These boys have been playing for a solid year just to get to this one game."
That one game has now turned into at least two with Lansdowne Yonkers FC now slated to travel to face MLS Next Pro club Rochester New York FC (formerly known as the Rochester Rhinos) for a Round 2 match at Monroe Community College on Thursday, April 7 at 7 p.m.
"We know what's at stake and these boys are hungry to achieve it," Kelly said.