One of the dark horses wolves of the Open Division Local entries for the 2022 Lamar Hunt US Open Cup are the Orlando FC Wolves.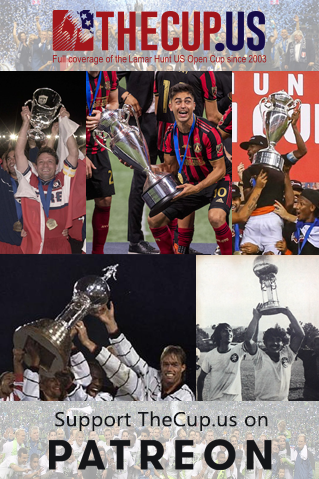 Orlando are very much like a wolfpack. A tight-knit team founded by Bradley Welch in 2018 after he returned stateside in 2017 after playing overseas. The team is made up of ex-collegiate and pro players that like to play at a highly competitive level. For a team that has only been together for five years, they have put together an impressive list of titles and accolades, including the 2021 Florida State Cup championship, four Central Florida Soccer League Elite Division titles, a National Soccer League Central Florida League championship and they also reached the USASA Region III Final off the 2021 National Amateur Cup.
The Wolves are quickly becoming a force to be reckoned with in Central Florida. Head coach Kent Welch and assistant coach Terry Horton have been responsible for shaping and molding Orlando into what they are today. With the players they have, most of which have been with the club since it was founded, they all hope for continued success in this year's US Open Cup.
The Wolves were the only team that qualified for the 107th edition of the US Open Cup out of the Open Division Local qualifying tournament that began that competition in the abbreviated opening round. As one of six teams to start in the first qualifying round, while everyone else began in the second round. The Wolves started with a pair of 4-0 wins over UPSL clubs Deportivo Lake Mary FC & Oceanway FC.
The original match against Deportivo Lake Mary FC was postponed due to heavy rain and lightning, but when the game was finally played the Wolves took control early. Cristian Serrano buried a goal from just outside the box, assisted by Joe O'Sullivan, the Wolves all-time leading scorer, in the 23rd minute.
Then Orlando scored two second half goals off corner kicks, one of them off a Lake Mary defender's head in the 62nd minute and the other was a header from JP Lopez in the 77th minute. O'Sullivan closed out the scoring with a tap in from a Hank Morton cross in the 84th minute. It was the second year in a row that the Wolves had eliminated Deportivo in the qualifying tournament.
JP Lopez added another goal in the Wolves' 4-0 win over Oceanway FC in the next round, but it was O'Sullivan that stole the show with a hat trick (29′, 67′, 81′). Goalkeeper Zach King got the start and earned the clean sheet for Orlando.
HIGHLIGHTS: Orlando FC Wolves vs. Oceanway FC
View this post on Instagram
The Wolves earned a 3-1 win over fellow National Soccer League club Miami Sports Academy. O'Sullivan kept up his scoring streak, tapping in a pass from Tristan Rehrig in the 16th minute. Welch doubled the lead by pouncing on a rebound 56th minute. James Winchester curled a ball in from the right wing seven minutes later to give Orlando a three-goal lead. The Wolves' 248-minute shutout streak would come to an end later in the game but they held on to advance to the final round of qualifying.
They would punch their ticket without having to take the field as they received a "Win and You're In" forfeit victory when South Carolina United Heat was forced to withdraw due to a COVID outbreak among their players.
Orlando FC Wolves Resume
4x Central Florida Soccer League Elite Division Champions
3x Central Florida Soccer League Elite Division Cup Champions
2020 Florida Classic Tournament Champions
2021 Florida State Cup Champions
2021 USASA Regional Finalist
2021 National Soccer League Central Florida League Champions
2021 National Soccer League Central Florida Conference Champions
2021 USASA Region III Amateur Cup Finalist

Founder and team captain Bradley Welch is no stranger to the US Open Cup. In 2011, as a member of FC New York (USL Pro, Div. 3 pro), he played against the New York Red Bulls of MLS in what was a close game at Red Bull Arena. Even though the legendary Thierry Henry did not suit up that day for the Red Bulls, they still rolled out a very good reserve line up with some starters like Tim Ream, John Rooney, and Juan Agudelo. They fought the entire match and kept the game to a 1-1 draw, until a late strike by John Rooney gave the Red Bulls the 2-1 win. It was a bittersweet game for Bradley considering he supported the Red Bulls since the team's Metrostars days.
"It was truly awe-inspiring to even be in his presence as a lifelong football fan," Welch said about playing a team with players like Henry. "At the time, it was the largest set of fans I had played in front of and the atmosphere as a new professional made the moment more memorable".
Orlando Wolves FC enter the US Open Cup for the first time after falling short in 2018 and 2019. It's a dream come true not just for the players, but for everyone associated with the club that they get to participate in this storied tournament.
Orlando will take on The Villages SC, a USL League Two team that has been a model of consistency. They have qualified for the last eight US Open Cup tournaments, which is the longest active streak of any amateur team. The game will be played at The Villages SC Complex in Summerfield, Fla. on Tuesday, March 22. Kickoff is scheduled for 7:30 p.m.
"Our match versus The Villages will definitely be an uphill battle," said Welch, who represented Trinidad & Tobago at the Under-23 level. "From what we know, they've been quite the successful outfit in USL-2 over the years. They have the resources to prepare as any professional team does in this competition so it will take a mix of grit, determination and a little bit of luck to keep our run going. We have a great combination of young and experienced players that I think will bode well for us. We have no intentions of shying away from the magnitude of the match and are going in with the mindset that only a victory will do."
Spoken like a true captain.