At the start of 2021, Contra Costa FC wasn't sure if it would be playing a season in the National Premier Soccer League (NPSL). One year later and the team is busy building its roster for a US Open Cup debut, adding younger players and veterans to their squad.
The club was founded in 2015 out of San Francisco's East Bay but only recently developed into a senior men's squad.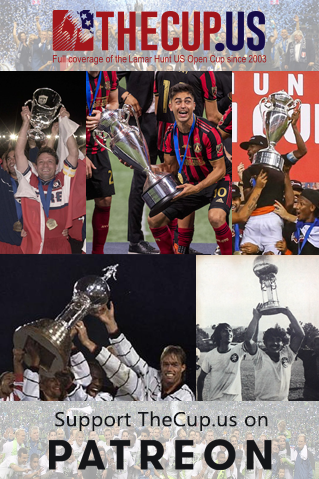 In the past few years this program has grown large enough to include multiple teams. Outside of the NPSL side, the club also has another team Atletico East Bay that plays in a different local league with a much younger squad. Most of Contra Costa FC's roster used during the qualifying rounds was from that team with an average age around 20 years old.
"We wanted to give Atletico the ability to gain experience playing against teams with much more experience footballers," said Contra Costa FC Chairman Gus Laredo. "After a successful campaign we decided it was time to throw them to the lions, so to speak."
The club's inaugural season in the NPSL hasn't officially taken place. The league's Golden Gate Conference was unable to compete in a traditional league season due to California's COVID regulations regarding travel. Instead, the NPSL created the Return to Play Series, a shortened "stand-alone" season that wasn't eligible to compete for league's national title. Contra finished sixth in the regular season and lost in the playoff quarterfinal.
More importantly, US Soccer allowed the team and other Golden Gate members to enter Open Cup's Open Division Local qualifying tournament for 2022. Despite the NPSL being a "national league", the team's inability to compete for the national title and automatic berths gave enough cause to allow for a waiver to be created.
In total, Contra Costa and three other NPSL teams (FC Davis, Oakland Stompers, and 1993 Open Cup champion El Farolito) entered qualifying. Only the former lasted all four rounds in the west region to reach the tournament proper.
The majority of Contra's players come from the Richmond and San Pablo area. Laredo gave some insight into the club's vision and what type of talent Contra Costa FC looks for in the East Bay.
"We are a no-pay-to-play model," said Laredo. "In other words we do not charge any money to the players for anything. Coach Bejan Esmaili, who is also a great friend of mine, firmly believe that the beautiful game of soccer should be accessible to everyone from the grass roots to all levels of competition without financial barriers."
"Our program looks for young, dedicated youth and amateur players from these local communities that not only have advance soccer skills, but also have strong family bonds and possess 'a no quit character' to become future leaders that will give back to their communities and mentor future generations."
Laredo also mentioned that his club's ambitions are ever-growing. Last year, the team's ownership group acquired a minority stake in Thisted FC, a Danish side that competes in the country's second division. It means not only to give players chances to play in this country but abroad too.
"Our goal as a club is to create a platform offering players opportunities," said Laredo. "Where always happy to work with USA pro leagues but we also have strong alliances to pro clubs Sao Joao de Ver in Portugal, Liga 3 and Thisted FC in Denmark league 2. We have the ability to send players to these two clubs and plan to do so either to train or look to win a spot on their rosters."
Contra Costa FC's path to qualifying for the US Open Cup began last October on Halloween when it defeated UPSL side Modesto City FC 3-1 in the second qualifying round. Contra Costa FC received a pair of first-half goals from Addison Escobar and Fernando Lara. Roberto Gonzalez scored in the second half to clinch the win for Contra Costa FC.
In the third qualifying round, Contra Costa FC faced fellow NPSL side El Farolito. Despite being the younger team, Costa was able to go toe-to-toe at P. Lang Park in San Francisco. Escobar gave his team the early 1-0 lead in the first half. Even though El Faro equalized in the 50th minute, Roberto Gonzalez scored to give Contra Costa a 2-1 lead in the 64th. El Farolito tied the game off a header in the 71st minute but Escobar added his second of the night and scored the game-winning goal in stoppage time to defeat the one-time Open Cup champions, 3-2.
In the fourth and final round, it was a marathon as Contra Costa had to get through 10 rounds of penalty kicks against San Francisco Metro to qualify for the 2022 U.S. Open Cup. Contra was down early on in the match after 24 minutes when former professional Matt Fondy scored to give Metro a 1-0 lead. After halftime Contra equalized in the 61st minute with a goal from Roberto Gonzalez.
In the shootout, goalkeeper Carlos Herrera made big saves to keep his team in the match and in the 10th round Fernando Lara converted from the spot to send CCFC to qualify for the US Open Cup for the first time.
Preparing to battle a Portland Timbers U-23s team (USL League Two) will be another new challenge in the First Round but Laredo feels his young team will make the most of this opportunity to elevate their game.
"What you will see on Wednesday, March 23 is a young group of 18 men that will fight until the final whistle," said Laredo, who knows for many, if not all of his players, this is an opportunity of a lifetime to play against an outfit with links to Major League Soccer. "A majority of the starting XI for Contra Costa FC will be 18 and 19 year olds which is likely to be younger than the Portland Timbers U-23s who have a deep, mature and experience player pool."
Contra Costa FC will travel for a midweek matchup at John Chambers Field in Salem, Oregon where they'll face the Timbers U-23s. Kickoff is scheduled for 10:30 p.m. ET. The winner will travel south to take on Sacramento Republic FC of the USL Championship on April 7.