When Brockton FC United takes the pitch in the First Round of the 2022 Lamar Hunt US Open Cup, they'll be playing for more than just their club: The city and immigrant community they represent will also have their pride on the line.
Located about 25 miles south of Boston, Brockton — known as the "City of Champions" — is a tough, working class city perhaps most famous for being the birthplace of Rocky "The Brockton Blockbuster" Marciano. The only heavyweight champion boxer to finish his career undefeated, Marciano's presence quite literally looms large at Brockton FC United home games; a massive 22 foot tall statue bearing his likeness casts a giant shadow, just outside the gates of a stadium that also bears the champion's name. Known for his durable chin, forbidding attack and the relentless pressure he put on opponents, United will attempt to channel Rocky's energy as they try to go as many rounds as possible in American soccer's oldest knockout competition.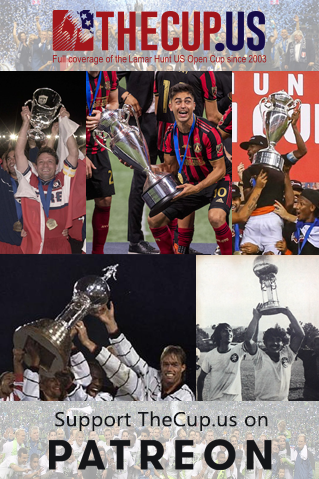 Beyond boxing, Brockton is also known for being a city of immigrants. This fact is well-represented by Brockton FC United, whose ranks are almost entirely pulled from the local Cape Verdean immigrant population. Cape Verde (also known as Cabo Verde) is a nation comprising a chain of islands approximately 400 miles off the western coast of Africa. Originally finding work in the region's whaling industry and cranberry bogs in the 1800's, over 75,000 people of Cape Verdean descent live in Rhode Island and southeastern Massachusetts today.
As much of the squad were born in Cape Verde and came to the United States at a young age, Brockton FC United is, in certain ways, a throwback to US Open Cups of yesteryear, which frequently saw teams representing various immigrant communities.
Founded in 2006 under the name Tarrafal FC, Brockton FC United currently competes in the New England region of the United Premier Soccer League's (UPSL) Premier Division, while also fielding teams in the Bay State Soccer League and local cup competitions. Fueled by strong team chemistry and furious attacking play, the club has seen much success at the local level in the past few years. Recent local cup titles include the Mass Champions' Cup and Mass State Amateur Cup in 2020, and they also grabbed a third place finish at the UPSL national tournament in 2021.
"I think we have good chemistry between us," said Manny Andrade, a central defensive midfielder who played for the Providence College Friars from 2012-15. "I've been playing with these guys for six years, some of them have been playing with each other for ten years. I feel the team bonding is there, the commitment is there. The chemistry is top notch right now."
That chemistry was certainly shown last fall in a qualifying campaign that saw Brockton outscore its three opponents by a total of 17-3, earning the squad their first-ever appearance in the US Open Cup Open Division Local qualifying tournament. (Another squad from Brockton with similar Cape Verdean roots — Emigrantes das Ilhas — qualified for the 2009 US Open Cup, but lost in extra time to the Western Mass Pioneers in the First Round)
The first game of their qualifying journey saw them handle fellow local UPSL team Unations FC by a score of 5-3, thanks to two goals apiece from Geo Alves and Rilton Carvalho. The following game saw them roll to an easy 7-0 victory over Kendall Wanderers, a Bay State Soccer League squad that was down a man and forced to start an outfield player in goal. The Wanderers previously qualified for the Open Cup in 2018, but were eliminated in an opening round match to Seacoast United Phantoms (USL League Two) in a penalty kick shootout where they also finished with 10 men.
The toughest test of the qualifying campaign came in the final game for United, which saw them traveling over six hours by bus to face off against Philadelphia Lone Star FC of the UPSL (Note: Lone Star FC also fields a team in USL League Two). Despite the long journey and high quality of their opponent, the Cape Verdean boys strolled to an easy 5-0 victory in a physical game that saw Lone Star rack up five yellow cards and one red. Brockton goalkeeper Benvido Barros picked up the shutout in impressive style with a late double save, and forward Geo Alves contributed with an assist and yet another goal, his seventh of the qualifying campaign.
Fresh off a game in the state qualifying tournament for the Werner Fricker Open Cup that saw United dismantle their opponent 12-0 — in the middle of an intense snow squall no less — Alves explained the typical March weather in New England was not putting a hamper on their preparation.
"The weather is not with us," Alves said, gesturing towards a snow-covered pitch, "but we do not give up. Our team chemistry is more important to us. Every player is highly motivated. The kids that play college want to make a statement."
Alves is perhaps the most experienced player on the squad. Born on the island of Fogo in Cape Verde, he earned a Rhode Island Gatorade Player of the Year nod while playing for Shea High School in Providence, R.I. After a successful collegiate career at Vermont that saw him named the America East Striker of the Year in 2018, Alves was drafted in the third round by D.C. United in the 2019 MLS SuperDraft. He most recently played professionally with the New York Cosmos, until financial complications from the COVID-19 pandemic saw the club suspend operations.
When asked what it meant for him to have the opportunity to play in the US Open Cup, Alves said "That's a huge goal. Last year, I was with the Cosmos and was expecting to play in the tournament but couldn't because of COVID. This year, I'm highly motivated and I can't wait."
He was not the only player who was eagerly anticipating their first round matchup.
"This is very big for us," said team captain and midfielder Ruddy Delgado, who has been a member of the squad for over eight years. "It's something we've been trying to do for the past few years, and we haven't been able to pass that hump. Finally we did it. We don't want to waste this opportunity."
Both Alves and Delgago are expecting a good game out of the Western Mass Pioneers, who are traditionally a strong club out of USL League Two.
That being said, Alves has had plenty of success against this fellow Bay State based squad during past meetings at Lusitano Stadium.
"Personally I have a good record against ," he said.  "I've scored six goals against them in three games. They have a very good environment and a very professional coach. They're really competitive and I know it's going to be a really good game."
One sentiment was unanimous amongst the team: A deep cup run would be incredibly meaningful for the city of Brockton and the Cape Verdean community.
This team reflects our community, and everyone in this community is behind us," said Alves. "They know the kind of talent we have. They know our success can translate into something good for the kids growing up. That's what motivates us. It's a huge honor what the community has done for us, it's the first time the local community has been behind us like this."
Manny Andrade, who was also born on the island of Fogo, agreed that a deep run would be incredibly meaningful for the next generation of Cape Verdean players.
"It will be a huge accomplishment for us. Just to put the Cape Verdean community on the map," Andrade said.  "It would let professional teams know that there's Cape Verdean players out here that have the quality and potential to play at the highest level. This US Open Cup gives us the opportunity to be seen by good teams, and hopefully make it someday."