Denver-based Azteca FC are set to make their third Lamar Hunt US Open Cup appearance in a Wednesday evening visit to Tulsa, Oklahoma to face the NPSL's Tulsa Athletic. This is the club's first appearance since 2018.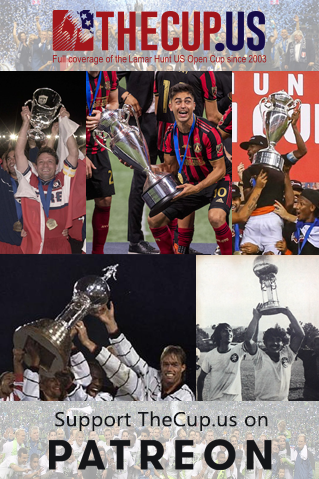 Azteca FC are owned and managed by Andy de la Rosa, who also owns a local construction company. In recent years, the team has become one of the annual contenders in the Colorado Adult soccer scene. Andy attributes this to three things: the ability to recruit top players from the Denver area, the commitment of his players to succeed, and participating in the toughest leagues and tournaments available in Colorado.
Andy also adds, "A combination of coaching, planning and managing the team to put it in the best position to win and that doesn't mean entering the weakest leagues in Colorado."
Last fall's Colorado Super League season saw Azteca finish third, eliminating Gam United 5-2 in the semifinal before falling in the final 5-3 to FC Denver, after extra time. Shortly after that, Azteca qualified for the US Open Cup with a dramatic Denver Superclasico win against league rival Harpos FC, winning 4-3 after extra time. Prior to that "Win & You're In" match, they beat fellow Colorado Super League side Colorado Rush, 4-1, followed by a 5-2 home win over the Colorado Rovers (Colorado Premier League).
While Azteca currently has no former MLS or Liga MX players, they do have ex-pros from division two and three leagues in Mexico, Honduras and Chile, as well as former Division 1 and Division 2 college players and a roster of top-notch amateurs. Andy says none of the ex-pros are likely known outside of the local scene, but all the players are crucial to the team's success. Specifically, Azteca's three co-captains, Marcos Madera, Eduardo Reza and Jovany Herrera.
First choice goalkeeper Marcos Madera is the team's most veteran player, bringing years of skill and experience to anchor the defense. Eduardo Reza is a leader in the midfield bringing his excellent technical skills to help build and drive the attack. Finally, forward Jovany Herrera, whose play makes him the attacking leader of the team.
"I'm not sure why," said De La Rosa, "but for one reason or another he never made it pro but should have."
The winner of Wednesday's game against Tulsa Athletic will play on the road against FC Tulsa of the USL Championship in the Second Round on April 5.
The trip to Tulsa is about a 9.5 hour drive, the longest road trip of any First Round game.
Andy says his team is ready for the challenge against a tough Tulsa Athletic side and are focused on the task at hand.
"We would have preferred to draw Hailstorm or Switchbacks in the Second Round to avoid travelling, but it is what it is." said De La Rosa. "We'll worry about the next match after we win our first."
In Azteca's first two trips to the Open Cup, they played road games against amateur teams. In 2017, they lost a narrow 1-0 extra time game to FC Wichita (NPSL), and in 2018, they lost to rival FC Denver, 4-2.
Tulsa Athletic hosts Azteca FC on Wednesday, March 23 at 8 p.m. (ET) at Oral Roberts University's Case Soccer Complex in Tulsa.
MORE: Azteca FC's Meet the Underdogs stories from 2017