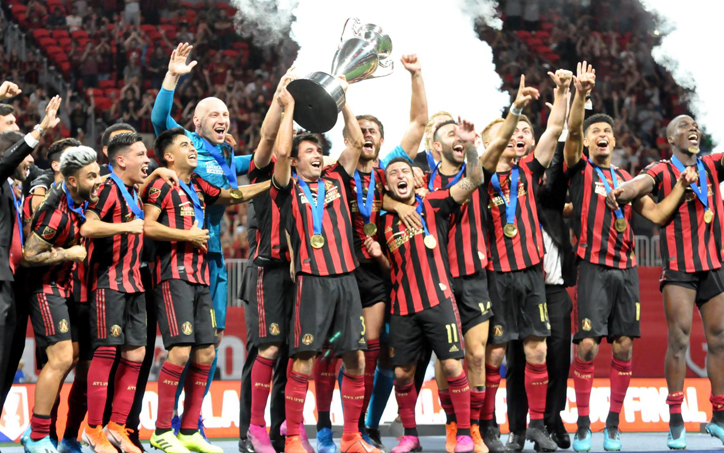 Open Division Local Qualifying is finished for the 2022 Lamar Hunt US Open Cup. Local Qualifying is still a small part of the field, but what about the professional teams which saw lots of change among the lower divisions over the last few months? Also, who is in line to participate from the Open Division National Leagues of the National Premier Soccer League (NPSL) and USL League Two (USL-2)?
This article will try and project how the 2022 edition of the US Open Cup could be formatted and which teams are participating. Forms from all teams were due on Dec. 14, but the final professional league deadline as outlined in the US Open Cup handbook is today (Dec. 31). So this is still completely unofficial until US Soccer releases the final allocation of teams next week on January 6.
Part I: Professional Teams
All professional leagues will enter the 2022 competition at various points. However these teams are ineligible
Teams that are directly owned by a higher division team
Teams that have their roster materially controlled by a higher division team
Teams that only have an affiliation agreement or only receive technical support are still eligible. With the addition of MLS Next Pro as a new professional league though, almost all of these agreements are going away and teams are truly independent of a higher division team. For instance, Rio Grande Valley FC will now be participating as their roster is no longer controlled by the Houston Dynamo, who will now have their own second team in MLS Next Pro. FC Tucson is also no longer owned by Phoenix Rising, so they will be participating too.
Let's go through the leagues one by one, starting from the highest division and list the teams entering the Open Cup.
Division I, Major League Soccer (MLS): 25 teams
Atlanta United
Austin FC
Charlotte FC (expansion)
Chicago Fire
Colorado Rapids
Columbus Crew
D.C. United
FC Dallas
FC Cincinnati
Houston Dynamo
Inter Miami
LA Galaxy
Los Angeles FC
Minnesota United
Nashville SC
New England Revolution
New York City FC
New York Red Bulls
Orlando City
Philadelphia Union
Portland Timbers
Real Salt Lake
San Jose Earthquakes
Seattle Sounders FC
Sporting Kansas City
Ineligible teams: 3
Montreal Impact (Canada based)
Toronto FC (Canada based)
Vancouver Whitecaps (Canada based)
Every single US-based team in MLS is eligible and participating. Charlotte FC was included in the MLS schedule release on Dec. 15, fulfilling all policy requirements for their participation.
Division II, USL Championship (USL-C): 23 teams
Birmingham Legion
Charleston Battery
Colorado Springs Switchbacks
Detroit City FC (expansion)
El Paso Locomotive
FC Tulsa
Hartford Athletic
Indy Eleven
Las Vegas Lights
Louisville City
Memphis 901 FC
Miami FC
Monterey Bay FC (expansion)
New Mexico United
Oakland Roots SC
Orange County SC
Phoenix Rising
Pittsburgh Riverhounds SC
Rio Grande Valley FC
Sacramento Republic FC
San Antonio FC
San Diego Loyal
Tampa Bay Rowdies
Ineligible teams: 4
Atlanta United 2 (second team of Atlanta United)
LA Galaxy II (second team of LA Galaxy)
Loudon United (second team of D.C. United)
New York Red Bulls II (second team of New York Red Bulls)
A few teams have left the league since the last time the Open Cup was played. Even this year, Oklahoma City Energy FC had to go on hiatus due to renovations at their current stadium. Austin Bold also went on hiatus and is expected to move to Fort Worth in the future. Neither team was included in the official announcement of conference alignment which confirmed the 27 teams in the league (including the 4 ineligible teams.)
Division III, USL League One (USL-1): 11 teams
Central Valley Fuego FC (expansion)
Charlotte Independence (expansion)
Chattanooga Red Wolves SC
FC Tucson
Forward Madison FC
Greenville Triumph SC
North Carolina FC
Northern Colorado Hailstorm FC (expansion)
Richmond Kickers
South Georgia Tormenta FC
Union Omaha
Despite Central Valley Fuego not having a stadium announced, they were included in the schedule release for USL League One. This likely means that they have a waiver from the US Soccer Board of Directors as this is a violation of the Professional League Standards which require a stadium lease signed at least 120 days prior to the season.
All other expansion teams are either a move from another league (Charlotte) or have a stadium being completed and have a technical staff hired (Northern Colorado).
All three expansion teams in USL-1 will require waivers from the US Open Cup committee as their season begins on April 2 while the first Open Cup match is scheduled for the Second Round on April 5-7. US Open Cup policy states that teams beginning their first season in an existing league must have their first league match scheduled at least 7 days prior to their first Open Cup match. In Charlotte and Northern Colorado's case, their first match of the entire season will be the Second Round Open Cup match.
Division III, National Independent Soccer Association (NISA): 13 teams
AC Syracuse Pulse (expansion)
Albion San Diego
Bay Cities FC (expansion)
California United Strikers FC
Chattanooga FC
Chicago House AC
Flower City Union (expansion)
Los Angeles Force
Maryland Bobcats FC
Michigan Stars FC
New Amsterdam FC
Stumptown AC
Valley United FC (expansion)
NISA has certainly undergone some major expansion in the past year. We are not including New Jersey Teamsterz who still have not announced a stadium and have stated they will play in NISA Nation for the upcoming year. All other expansion teams have stadium agreements in place for the upcoming season. Flower City Union does have some red flags about their expansion, but they will be included for now.
Division III: MLS Next Pro: 2 teams
Rochester New York FC
St. Louis City SC second team (name TBA)
Ineligible teams: 19 (every other team in the league)
While almost all of the teams in this new league will be ineligible for the US Open Cup, the independent teams that join will participate. So far, the only independently-owned team in MLS Next Pro is RNYFC, formerly the Rochester Rhinos. However, in a quirk of the rules, St. Louis City's team in this league will only participate in the Open Cup for 2022 because the MLS team is not playing until 2023. At that point, this to-be-named second team will then fall under the existing policy and become ineligible for the US Open Cup.
To summarize:
Division I (MLS): 25 teams
Division II (USL-C): 23 teams
Division III (USL-1): 11 teams
Division III (NISA): 13 teams
Division III (MLS Next Pro): 2 teams
Total: 74 teams (a Modern Era record)
Part II: Possible Tournament Format
US Soccer announced the format of the 2022 US Open Cup on Dec. 22. The announced format changed some things that were announced back in July as now the Division III teams will enter in the Second Round, and more than 50% of the MLS teams will enter in the Third Round. Here is the format assuming our numbers above are correct. If are numbers are correct, this will be a Modern Era record 100 teams
First Round: 26 Open Division teams enter, 26 teams total
Second Round: 23 USL-C teams, 11 USL-1 teams, 13 NISA teams, and 2 MLS Next Pro teams enter and 13 winners of the First Round participate, 62 teams total
Third Round: 17 MLS teams enter and 31 winners of the Second Round participate, 48 teams total
Round of 32: 8 remaining MLS teams enter and 24 winners of the second round participate, 32 teams total
Round of 16: 16 winners of Round of 32 face off, 16 teams total
Quaterfinals: 8 winners of Round of 16 face off, 8 teams total
Semifinals: 4 winners of Quarterfinals face off, 4 teams total
Final: 2 winners of Semifinals face off, 2 teams total
The eight MLS teams entering in the Round of 32 were decided in the same way as the cancelled 2020 tournament would have had. The four 2022 CONCACAF Champions League participants (Colorado Rapids, New England Revolution, New York City FC, and Seattle Sounders FC) and then the two best teams remaining from each of the conferences based on the standings last year (East: Philadelphia Union, Nashville SC) (West: Sporting Kansas City, Portland Timbers). The remaining 17 teams, including expansion Charlotte FC will enter in the Third Round.
We should also note that we expect the continued policy that no team from the same DIVISION (not league) will be pitted against each other in the round they enter in. This means that USL-C teams will not face each other in the second round, and the entirety of Division III (USL-1, NISA, and MLS Next Pro) will not face each other in the second round. So while a Rochester or Chattanooga derby would be great to see, it just cannot happen in the Second Round. But there's nothing preventing these from happening in the Third Round. The 17 MLS teams in the Third Round will not face each other in the Third Round as well. For the Round of 32 though, the cancelled 2020 tournament had these last entering MLS teams facing anyone from the Third Round, other MLS teams included. They will not face each other though. So a Seattle vs. Portland match in the Round of 32 will not happen, but a LA Derby could happen since both teams entered in the Third Round.
Part III: Allocation of Open Division slots
Now let's determine how the 26 Open Division slots will be allocated. We already know 11 teams will qualify from the past three months of qualifying games. We also know that Landsdowne Yonkers FC have also qualified as USASA National Amateur Cup champion, making a total of 12 teams with the local qualifier designation.
Local Qualifiers, 12 teams:
Landsdowne Yonkers FC
Brockton FC United
Lynchburg FC
Oyster Bay  United FC
NoVa FC
D'Feeters Kicks Soccer Club
Azteca FC
Escondido FC
Orlando FC Wolves
City Soccer FC
San Fernando Valley FC
Contra Costa FC
That leaves 14 slots remaining for the two National Leagues, NPSL and USL League Two. Since both teams had roughly the same number of teams, they will have the same number of entrants as well, 7 for each. Should this change, it can only increase or decrease by 2 teams at a time based mostly on how many teams in NISA actually play in 2022 (every other league has been confirmed in some way). We have predicted the maximum number of NISA teams to play in 2022, so the two national leagues should only go up if teams from NISA don't end up playing.
National Premier Soccer League (NPSL), 7 teams
Denton Diablos FC
Tulsa Athletic
FC Baltimore Christos
Cleveland SC
FC Motown
Southern States Soccer Club
Minneapolis City SC
Should the number of teams increase or teams decline their bid for some reason, here are the next 5 alternates in order.
FC Golden State
Georgia Revolution
Miami United
Hartford City FC
FC Milwaukee Torrent
USL League Two (USL-2), 7 teams

Des Moines Menace
Portland Timbers U23
West Chester United SC
SC United Bantams
The Villages SC
North Carolina Fusion U23
Western Mass Pioneers
Should the number of teams increase or teams decline their bid for some reason, here are the next 5 alternates in order.
Kalamazoo FC
Long Island Rough Riders
Mississippi Brilla FC
Park City Red Wolves
Chicago FC United
You can see the full list of teams that could qualify from the NPSL here and from USL League Two here