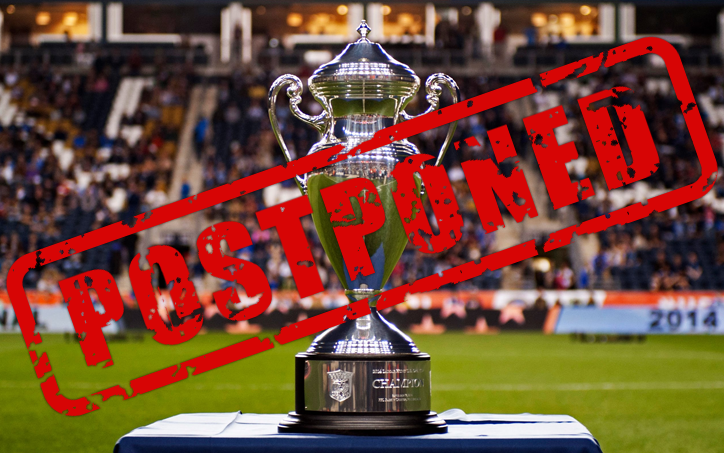 The COVID-19 pandemic has forced another change to the 2021 Lamar Hunt US Open Cup. The 107th edition of the United States' national championship was recently reduced to 24 teams (down from 100 in 2019), and then further shrunk to 16 teams. Now, the US Soccer Federation (USSF) has confirmed that the 2021 US Open Cup will not be played this spring and will be postponed.
This story was first reported by Phill Grooms of The Beautiful Game Network.
The United States Soccer Federation later made it official by announcing that the tournament will be postponed with the hopes of playing it later this year.
"The logistical and financial burdens to have the tournament take place this spring in the current environment are substantial," said Paul Marstaller, US Open Cup commissioner, in the announcement. "Even though all of U.S. Soccer's member professional teams will be playing in their respective league competitions this year, the Committee did not feel it wise to have clubs divert important resources during the next two months for Open Cup play. Instead, we will look further into the future to see what possibilities might exist for 2021. After that, a full-scale 2022 Open Cup is less than a year away."
The current plan for the 2021 US Open Cup is a 16-team tournament
As we previously reported, the United States Adult Soccer Association (USASA) had recently sent a letter to the USSF asking that they cancel the 2021 competition due to the financial and logistical burdens that could potentially be placed on their two amateur teams by the federation's COVID-19 safety protocols. After a blind draw, those two teams were revealed to be 2019 USASA Amateur Cup champion Newtown Pride FC (Conn.) and the Southern California-based FC Golden State Force of USL League Two.
As it stands, the 2021 US Open Cup format will feature 16 teams. Eight teams from MLS which are still to be determined, four from the USL Championship (El Paso Locomotive FC, Louisville City FC, Phoenix Rising FC, Tampa Bay Rowdies), one from USL League One (reigning champions Greenville Triumph FC), one from the National Independent Soccer Association (2020 NISA Fall Champion Detroit City FC) and the aforementioned amateur teams.
If played, the 16-team field would be the smallest field (including qualifying teams) in the history of the tournament.
The question going forward is can the federation find a way to fit even an abbreviated US Open Cup into the American soccer calendar before the fall? That will be a challenge with all of the professional teams handling their respective league schedules, not to mention the CONCACAF Champions League and the upcoming Leagues Cup that will pit MLS teams against Mexican clubs.