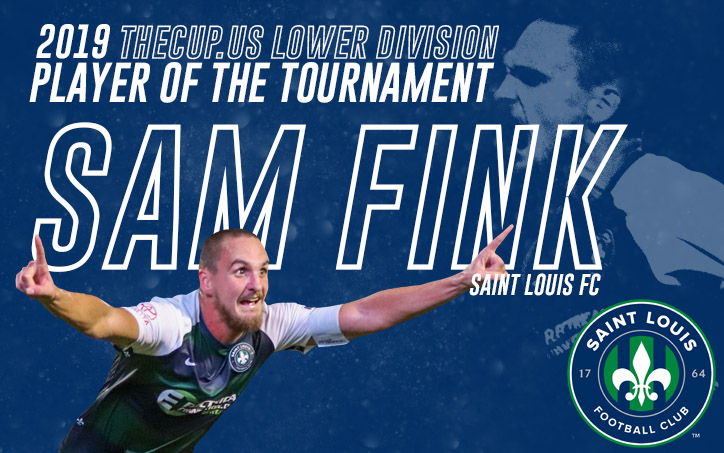 There are many names synonymous with St Louis and their accolades in the Lamar Hunt US Open Cup throughout history.
Local soccer stalwarts love to talk up the past. The fans however want to celebrate the present and while most will point to the Josh Sargent's and Tim Ream's of the world, Saint Louis FC fans hold one name higher than all others: Sam Fink.
Family man and humble off the field, Sam is a hometown warrior. A true blue collar player for the blue collar city he represents.
After leading Saint Louis FC to the club's first US Open Cup Quarterfinal appearance, the hometown defender was narrowly voted the 2019 TheCup.us Lower Division Player of the Tournament. It was a very tight vote as conducted by TheCup.us staff, a select panel from the North American Soccer Reporters, and members of TheCup.us's Patreon team that pledge $10 or more.
Fink edged New Mexico United forward Kevaughn Frater by a single point (3 points for a first place vote, 1 point for a second place vote). Valentin Sabella of the Florida Soccer Soldiers finished just a few points behind in third place and Frater's teammate Devon Sandoval just a point behind him. (Check out the rest of the nominees HERE)
"I'm honored to have won this award and grateful to everyone that contributed to it," said Fink, who becomes the first defender to win the award since it was first given out in 2012. "This tournament experience was one that I'll never forget and adding to that experience after the fact is really special."
The 2019 US Open Cup run started ominously for Fink. A Second Round match-up against the ever-dangerous Des Moines Menace (USL League Two, Open Division National) saw the game finish 1-1 after extra time. It was Fink who conceded the equalizing penalty kick which allowed the Menace back into the tie after an early Kyle Grieg goal. Saint Louis FC eventually prevailed in a penalty shootout as 18-year-old academy goalkeeper Patrick Schulte kept just three Menace shots at bay.
"Although I've never actually experienced it myself, I feel like the Des Moines away has to be the open cup version of 'can you do it on a cold rainy night at Stoke?'," said Fink. "The field was not good, the stands were full of rowdy Iowans, the officials were having an off day, and Des Moines did everything in their power to make sure they took us to . Football is a crazy game and I'm glad we got out of there successfully."
In the Third Round, one of the current darlings of lower division soccer in the United States, Forward Madison (USL League One, Division III) came to St Louis and hit a roadblock in their quest to eliminate a second straight USL Championship side in the competition. The underdogs were up for the challenge, despite going down by two goals early, they attacked with venom and halved the lead before halftime. Fink and his centerback partner Phanuel Kavita had to ride out a tenacious free-flowing counter attack that took Saint Louis FC to the wire. In the 72nd minute, Russel Cicerone scored for Saint Louis to regain the two-goal advantage as the match would end with a 3-1 scoreline that somewhat flattered the home side.
"Having played Madison in the preseason we knew they had some quality," said Fink. " Anthony made it very clear that if we thought it was going to be a walk about we were going to get embarrassed at home on our own pitch. We scored two quite early and controlled the game exactly how we had planned. As is always the case though the underdog never gives in and they quickly ceased the momentum with a goal until we snatched it back for good with a third goal. They were a quality side and a good test for us, but I thought we very much deserved to move on. "
With mission accomplished against Madison it was on to the Fourth Round where Saint Louis earned a rematch of a 2017 meeting with the Chicago Fire of MLS.
Due to weeks of rain and some flooding around the field, which had already scuppered two USL contests, the game was moved at the last minute to Hunter Stadium and Lindenwood University in St. Charles County, approximately 25 miles northwest of Soccer Park and it felt very much like an away game for both sides.
"The venue change against Chicago was unexpected and unwanted, but after we got comfortable with the idea we actually felt like it could be an advantage," said Fink. "Do you think guys that have played in World Cups want to be playing on a turf field with every sport line ever on it? Me neither. The stadium was situated like a bowl that kept all the noise in and it ended up being a really cool atmosphere. We had no fear playing Chicago."
Chicago came out and immediately stamped their authority in the game dominating for the first 20 minutes. Fink, had to grow into the game, just like he had grown into the team in 2014. The Saint Louis captain used his calming presence to keep the Fire attack at bay as Austin Martz and Guy Abend scored two first half goals which were enough to send the St Louligans home in raptures. With a 2-1 win, this was the club's first upset of an MLS team after two previous narrow 1-0 losses (2015 Round 4 at Sporting KC, 2017 Round 4 at Chicago Fire). Their second scalp was just a short week away.

After a victory against Louisville in their previous round, the Open Cup gave a struggling FC Cincinnati (MLS) a welcome respite from league play and a chance to follow on from their own Open Cup heroics (as a USL team) of previous campaigns.
They hit a brick wall as this was the game that made Sam Fink a folklore hero among St. Louis soccer fans.
Fans will remember his performance, but also that of the entire team as they played their most complete 90 minutes of the season when it mattered most in a 1-0 home win.
Fink has been a constant presence for Saint Louis when it needed a big moment in USL play. In this game, he scored one of those big goals in US Open Cup play. His back post thumping header from a Lewis Hilton corner kick three minutes into second half stoppage time eclipsed everything as the goal broke the scoreless tie and catapulted the USL side into the Quarterfinals for the first time in club history.
"When I replay that goal in my mind it's like it was all in slo-mo. I just had this feeling going into the box that this was going to be it – I even told Kadeem as I was running in that I was ending it on that corner. Lewis put a perfect service into the box as he does, and the second it came off my head I knew it was goal bound. The only word I have to describe the moments after is euphoria. Celebrating with fans that mean a lot to me and teammates that deserved every second of that win was special. My favorite part of it all isn't really the goal, it's looking thru photos and seeing the looks on the faces of all my teammates, whether they played or not. Complete joy on every single guys face. They aren't too many things that can unite a group of people all at once like sports can."
According to Fink, it was the home crowd of more than 4,000 fans that pushed them over the finish line.
"We are really, really good at home," said Fink. "And with the struggles that Cincinnati has gone through this year, we once again felt like there was a real chance for us to move on. Soccer Park was rocking as always and we put together a fantastic 90 minute display. You could absolutely feel the support from all over the country and especially in our city and I think that gave us the momentum from the jump.
His performance in the win over FC Cincinnati made him the first Saint Louis FC player to earn TheCup.us Player of the Round award in club history.
"When you play guys in leagues above you, you often go in with a chip on your shoulder and a point to prove," Fink added. "That's especially true when it's the team that cut you – like a few of our guys. It was going to take a lot to beat us that night and even if they had the quality, I'm not sure they could match our passion and our work rate to win that game."
The cup run would end as the quarterfinal game against the reigning MLS Cup champions (and eventual US Open Cup winners) Atlanta United FC on the road proved to be a bridge too far for a team that had been playing two games per week on a consistent basis for the last month. The combination of making up postponed league games and the extra Open Cup games made the journey difficult. Whilst Lewis Hilton hit a post early on which would have given Atlanta some jitters, Gonzalo "Pity" Martinez netted to ease the pressure for Atlanta before Josef Martinez added in the last minute from the spot to round off the 2019 US Open Cup journey for STLFC and Sam Fink.
"The experience playing Atlanta away was two-fold," explained Fink. "On one hand, it was incredibly special to play a group of world class players that were the best in MLS a season ago. But on the other, we had come that far already beating two MLS teams, so why not three? Looking back, I think we deserved more than a 2-0 result. The second was just a garbage time that came about because we sent everyone forward and the first came off a poor turnover on top of our 18."
Despite giving up the two goals in Atlanta, Fink's defensive record in the competition this year was a big part of winning the award.
Take away the penalty kick goals scored by the Des Moines Menace in Round 2 and the Chicago Fire in Round 4. The Saint Louis defense only allowed one goal in their first four matches with teenager Patrick Schulte in between the sticks for the Menace game and regular starter Tomas Gomez getting the nod in the remaining four matches.
Fink makes history with this award as the first defender to win either of the TheCup.us Player of the Tournament awards (overall or lower division), which is an interesting fact considering his origin story.
"I originally was a striker" said Fink, who has scored a career-high six goals this season in league play, boosted by his new role as designated penalty kick taker.
With Fink's award-winning performance on the back-line, he helped his club become the first team from Saint Louis to reach the Quarterfinals since 1993 (Scott Gallagher).
"The Open Cup run was a remarkable accomplishment for the club," said Saint Louis FC general manager Jeremy Alumbaugh. "Since we began in 2015, we have not hidden from the fact that the Open Cup has a history in St. Louis. As a club, we have to embrace that history as it deserves our respect. Tradition is one of our Club Core Values and part of that is working to establish new traditions. I think the way we handled the competition this year helped to establish the Club in the history of the Open Cup in Saint Louis."
"Sam is an outstanding captain," Alumbaugh added. "The club is in his DNA as a player and person.  He understands how to lead the locker room and the authentic soccer culture that we have created in this community."
Past winners of TheCup.us Lower Division Player of the Tournament
2012: Danny Barrera (Cal FC – USASA)
2013: Ty Shipalane (Carolina RailHawks – NASL)
2014: Scott Goodwin (Carolina RailHawks – NASL)
2015: Michael Salazar (PSA Elite – USASA)
2016: Diego Restrepo (Fort Lauderdale Strikers – NASL)
2017: Mitch Hildebrandt (FC Cincinnati – USL)
2018: Allisson Faramilio (FC Golden State – PDL)