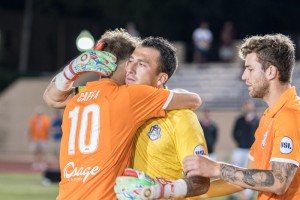 In one of the closest votes in the website's history, Fabian Cerda of the Tulsa Roughnecks edged fellow goalkeeper Phil Saunders of Christos FC for TheCup.us Player of the Round honors.
The award, which is voted on by the staff at TheCup.us and a select panel from the North American Soccer Reporters, was decided by a single first-place vote, which is worth three points, versus a second-place vote which is worth one point.
Other Round 4 performances that were under consideration were Saunders, who fell one vote short of winning his second straight Player of the Round honor. He made 10 saves for Christos FC in a 1-0 road win over the PDL's Chicago FC United. Other players receiving strong consideration were Tommy Heinemann of San Francisco Deltas (NASL) and Sebastian Dalgaard of Saint Louis FC (USL).
Cerda, a 28-year-old first-year backup goalkeeper with the Roughnecks, made three saves and kept a clean sheet over 120 minutes in a scoreless draw with San Antonio FC, the top team in the USL. After the game finished scoreless in Tulsa, Cerda made two saves in the penalty kick shootout and scored on his own attempt in the tiebreaker to help the Roughnecks advance to Round 4 with a 7-6 win. By advancing, Tulsa will face defending US Open Cup champion FC Dallas, which will be the first time the Roughnecks will take on a team from Major League Soccer.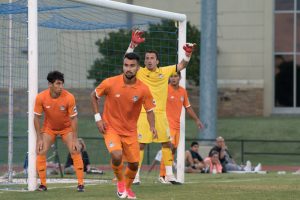 "It was not only about me, it was about the whole team together won the game," Cerda said through an interpretor. "It came down to penalties and of course I saved two but the guys who converted the penalties they did good too."
Goalkeepers taking penalty kicks are pretty uncommon in the US Open Cup and for Cerda, they're even more rare for him. According to Cerda, prior to his spot kick against San Antonio, he took one penalty kick at a youth tournament years ago.
Cerda becomes the first Chilean to win TheCup.us Player of the Round and he is the first Tulsa Roughneck to win the honor. He started his professional career in his home country, coming up through CD Universidad Catolica's youth system. He played for Catolica from 2009 through 2015 before moving to Trasandino last season.
Cerda was part of an amusing story while playing in a game for Trasandino. During a league game against Deportes Melipilla, a player from the opposing team took a shot toward goal and a dog who had run onto the field stopped the ball at far post. Cerda, as one can see from the video that has received more than 220,000 views, lets the ball go because it was clearly rolling wide of the goal. However, Cerda expressed his frustration that some were suggesting that the dog made the save for him.
After his time with Trasandino, Cerda decided to travel to the United States and sign with Tulsa this past offseason. He made his Roughnecks debut on April 22 in a 1-0 road win against Rio Grande Valley FC, and his Open Cup debut against San Antonio.
Cerda is no stranger to domestic cup competitions. He was part of the Catolica team that won the 2011 Copa Chile title. While he didn't play in the Final, the second leg had to be decided by penalty kicks and Catolica won their fourth domestic cup title in team history and its first since 1995.
Cerda knows that the Roughnecks will have their hands full when they travel to take on the defending Open Cup champions on the road in Round 4, but he's still confident.
"Of course with all the respect to FC Dallas and all the respect they have earned, but we have enough quality to beat them," said Cerda. "I have faith that this team can make history and keep going further in the ."
2017 TheCup.us Player of the Round winners
Round 1: Peter Caringi III (Christos FC)
Round 2: Phil Saunders (Christos FC)
Round 3: Fabian Cerda (Tulsa Roughnecks)