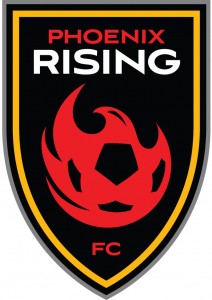 Phoenix Rising FC moved into the Third Round of the 2017 Lamar Hunt US Open Cup with a 3-1 victory over the Fresno Fuego at Fresno State Soccer Field on Wednesday night.
"A lot of our guys who don't get normal minutes stepped up, and it was good professional performance," Phoenix Rising FC interim head coach Rick Schantz said. "It's important to get wins in the Open Cup, and to be on to the next round is huge. Ultimately we want to get an MLS team in Phoenix, and this is what we are supposed to do."
Phoenix Rising broke the deadlock in the 33rd minute when Kody Wakasa finished a strike off of a corner kick, beating Fuego goalkeeper Agustin Rey near post for the 1-0 advantage.
After a Fuego giveaway one minute later in midfield, Eric Avila struck Mike Seth's cross into the back of the net to give the visitors a 2-0 lead.
In the 54th minute, Seth would get a goal of is own on a tap in to make it 3-0.
"We had one sleepy moment on that corner kick and we paid the price for it," Fuego head coach Brian Zwaschka said. "Right after that, we left ourselves a little to open, and they punished us. Apart of that, I thought it was a good performance. We created dangerous chances, but credit to their goalkeeper, he kept them in it."
The Fuego got a goal back in the 59th minute when substitute Fellipe Oliveira made it 3-1, but that was all Fresno could get past Phoenix goalkeeper Josh Cohen.
Zwaschka was visibly frustrated on the touchline after Abraham Campos received a red card in the 83rd minute, and he felt like it changed the momentum of the match.
"In the second half, we lost focus, and being a man down later was disappointing," Zwaschka said. "We tied our hands behind our backs after that."
With the favorable result, Schantz loved seeing his squad players step up so his starters could get some rest before they play San Antonio FC in league play.
"I thought Blair Gavin did a really good job for us in midfield," Schantz said. "J.J. Greer was another standout, but goalkeeper Josh Cohen was fantastic for us. He made some important saves, and it kept the team confident."
Phoenix, who played without their recent high-profile signings Didier Drogba and Shaun Wright-Phillips, will host NASL's San Francisco Deltas in the Third Round of the Open Cup on May 31. The winner of that match will travel to take on the San Jose Earthquakes of Major League Soccer in Round 4.