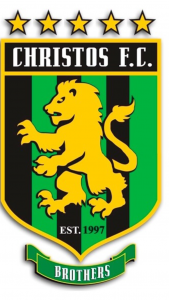 UPDATED (5/23): Christos FC met its $7,500 fundraising goal in just three days
After pulling off a surprising upset in the Second Round of the 2017 Lamar Hunt US Open Cup, Christos FC, an amateur club from Baltimore, are heading to Round 3. Now, they are asking for help to get there.
A 1-0 win over the USL's Richmond Kickers earned Christos a Third Round date with the Premier Development League's Chicago FC United. As a club self-described as a "true" amateur team where not a single player or coach is paid, money can be a little hard to come by at times. As a result, a GoFundMe campaign to help cover the cost to make the more than 700-mile trip to Chicago.
However, the US Open Cup isn't necessarily the sole motivator for this call. According to Jody Haislip, founder of Christos FC, those expenses are also going toward travel to the Hank Steinbrecher Cup, an annual competition that serves as sort of a "cup winners cup" for amateur soccer. Each year, it features the champion of the Premier Development League (PDL), National Premier Soccer League (NPSL), the USASA National Amateur Cup, and the previous Hank Steinbrecher Cup winner. Christos qualified as the winner of last year's Amateur Cup.
"I know that one of the guys created the page and it looks like it's just for the Open Cup game," Haislip told TheCup.us. "But it's also to help out with the Hank Steinbrecher Cup that we leave for the following day after Chicago."
This year, the Hank Steinbrecher Cup is being hosted by the defending NPSL champion AFC Cleveland.
Christos FC is no stranger to such expenses, after having competed in and won both the Werner Fricker Cup and the Amateur Cup last year. But while those are outings likely planned weeks and months in advance, Christos have only two weeks to figure out how to take their team from Baltimore to Chicago for the US Open Cup.
"Of course US Soccer is providing us money for the Open Cup but we have to front the expenses to then be reimbursed," Haislip said.
But still, even without the other amateur national competition, Christos and other amateur teams are often put in a somewhat difficult travel situation in these early rounds. The first few rounds are usually played on consecutive weeks, making any lengthy travel very expensive with less than a week's notice. The U.S. Soccer Federation (USSF) does reimburse some of the travel costs, but fronting the money isn't always easy for a small club.
The USSF reimburses up to $10-11,000 to teams (depending on the round) for travel expenses. Which is often enough to cover the expenses, but it depends on how far the trip is. Having to book flights for 18 players, plus coaches or any other staff, in less than two week's notice is going to be expensive. Then a team has to pay for transportation once they arrive at their destination, you have meals to pay for and hotels to stay in. All of that adds up.
But regardless of how much the bill ends up being for the entire trip, the biggest challenge for amateur teams like Christos FC is that they have to pay for everything up front, and according to multiple teams who have competed in the last couple of years, the reimbursement funds usually don't arrive until after the tournament is over.
Christos FC has a busy itinerary ahead of them at the end of the month. The plan is for the team to fly out of Baltimore on Tuesday, May 30 to Chicago. They will arrive in Chicago on Tuesday evening. The game will take place on Wednesday evening. Thursday morning they fly back to Baltimore. Then, they will drive about six hours to Cleveland where they will play a game on Friday and a game on Saturday.
For now, they're well on their way to Chicago. Thanks to a swell of support on social media, which was sparked, in large part, to a generous donation from New York Red Bulls midfielder Sacha Kljestan.
.@SachaKljestan doing his part of "giving back and growing the game". @ChristosFC #USOpenCup pic.twitter.com/hFUlwKRfL4

— Taylor Twellman (@TaylorTwellman) May 19, 2017
At the time of this being published, the campaign had raised more than $6,800 of the $7,500 goal.