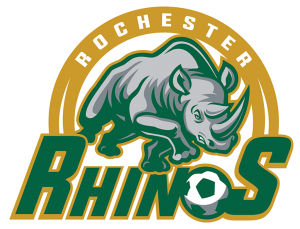 The Rochester Rhinos came out to a barn-storming start, but have slippery hands and jittery nerves to thank for their early goals in a 3-0 US Open Cup victory over FC Motown.
In just the 2nd minute, attacking midfielder Sofiane Tergou picked up the ball in midfield and ran at Motown's defense before dishing a pass into the channel for Rayane Boukemia and following the play into the box.
Jochen Graf controlled the cross from wide and flicked the ball into space for Tergou, who fired a tight angle shot at FC Motown goalkeeper Andrew Tartara. The ball appeared to skirt through Tartara's hands and between his legs at the near post for the game's first goal.
Rochester doubled its advantage minutes later in similar fashion.
Left back Ray Lee launched a long ball forward that Graf was able to knock into the right channel for rookie winger Jalen Brown. Without pressure from FC Motown, Brown was able to calmly curl an early cross towards the near post behind the backline.
Graf won the footrace and tapped the ball between Tartara's legs for Rochester's second goal in the 7th minute.
Rochester failed to produce much in front of goal to close the first half or to start the second.
The visitors from New Jersey often showed individual skill and impressive passing sequences, but could not capitalize on that positive play in the final third.
Near the hour mark, FC Motown began challenging Rochester's defense in a meaningful way, driven by substitute Andres Berriel.
Berriel found himself in a pocket of space behind fullback Ray Lee in the 56th minute, but his first touch let him down and the chance never materialized.
With attacking substitutions of its own, Rochester began to press hard for another goal in the final ten minutes.
Rayane Boukemia scored the Rhinos' final goal, tapping home a rebound in the 85th minute.
Rochester is now 16-0-0 all-time against amateur sides in the US Open Cup. The win also extends the Rhinos' Modern Era record for consecutive opening round wins. Rochester has won 15 consecutive tournament openers, with the only time they've ever lost coming back in 2001 to the A-League's Hershey Wildcats.
The Rhinos will host GPS Omens, a Massachusetts-based amateur team from the Bay State Soccer League, in the Third Round on May 31.