WordPress database error: [Unknown column 'status' in 'field list']
SELECT `final` AS final_round, `group`, `home_team`, `away_team`, DATE_FORMAT(`date`, '%Y-%m-%d %H:%i') AS date, DATE_FORMAT(`date`, '%e') AS day, DATE_FORMAT(`date`, '%c') AS month, DATE_FORMAT(`date`, '%Y') AS year, DATE_FORMAT(`date`, '%H') AS `hour`, DATE_FORMAT(`date`, '%i') AS `minutes`, `match_day`, `location`, `status`, `league_id`, `home_points`, `away_points`, `winner_id`, `loser_id`, `stat_id`, `post_id`, `season`, `id`, `custom` FROM wp_leaguemanager_matches WHERE `id` = '335' LIMIT 1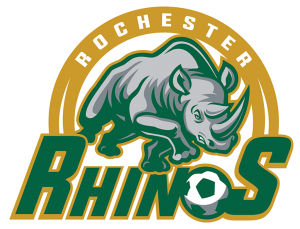 The Bhoys from New York City represented themselves well in a 2-0 loss to the Rochester Rhinos on Wednesday night.
Lansdowne Bhoys FC, one of six remaining teams from below the professional leagues, traveled to Rochester to face a team that, while best known as an occasional giant-killer, and the 1999 US Open Cup champion, is also a perennial minnow-crusher. The Rhinos entered Wednesday night's game with a 15-0-0 all-time record against amateur sides in the Open Cup but the Bhoys proved they were no pushovers by defeating USL team Pittsburgh Riverhounds in the Second Round.
The visitors flew up to Western New York on Tuesday night and had an extended training session on the turf at Rhinos Stadium on Wednesday morning. This rather professional preparation showed its value as Lansdowne players were competitive in every challenge from the first whistle.
Strong defenses from both teams limiting close-range chances in the first half but while Rochester attempted to make the pass in the final third, Lansdowne decided to shoot from distance. Attacking midfielder Daryl Kavanagh cut inside from the left channel to fire a right-footed shot wide of the far post from 18 yards out in the 16th minute.
In the 28th minute, Ciaran McGuigan rifled a heavy free kick just outside the post that appeared to have Rochester goalkeeper Tomas Gomez beat.
The Rhinos on the other hand tried to play short passes inside the area or low cross across the face of goal. Rochester forward Asani Samuels, who scored a hat-trick in the Second Round, dribbled towards goal along the end-line in the 12th minute but his patience allowed Lansdowne defenders to recover. Right winger Michel Guilavogui got around the corner in the 18th minute but there were no advanced teammates to meet his centering pass.
After the halftime break, the game continued in much the same way. In the 47th minute, Christian Volesky headed a cross from Bradley Kamdem tamely at Lansdowne goalkeeper Danso Abdoukarim. On the other end of the field, Ovan Oakley capitalized on a mistake by Rochester's defense to create a breakaway but his attempted chip bounced harmlessly wide of the post in the 54th minute.
Rookie midfielder Andre Fortune II broke the deadlock on the hour mark. Rochester's right back Dom Samuel had done well to cut inside and draw a foul from Lansdowne midfielder Craig Purcell. Several Rhinos stood around the ball but Fortune ultimately stepped up to take the free kick from 22 yards out. The Trinidad and Tobago youth international expertly curled the ball around the defensive wall and inside the post leaving Abdoukarim rooted to the spot.
The Bhoys responded well to conceding the game's first goal, fashioning multiple chances in the next ten minutes. Purcell and Kavanagh in particular were active, forcing Gomez to make saves. The task facing the amateurs from Yonkers got considerably more difficult when Volesky doubled Rochester's lead.
Marcos Ugarte picked up the ball after a half-clearance from Lansdowne's defense. The second-year Rochester winger saw Volesky in a meter of space and found his teammate with a crisp, low pass. Volesky took a touch to settle the ball before burying a right-footed shot from 18 yards in the 71st minute.
Despite the two-goal deficit, Lansdowne Bhoys FC continued to battle for loose balls and challenge the Rochester goal until the final whistle.
"They were a tough team, they were physical. They came to play for sure. They beat Pittsburgh a couple weeks back," Andre Fortune II said after the game. "We knew that after this game, whoever came out of it was playing Red Bulls and that meant a lot to both of us. They came out fighting and they were ready to play."
Christian Volesky described his goal to media after the game. "Marcos and I have a really good chemistry," he said. "He picked me out and I knew I was going to get the ball. I took a touch away from the pressure and just hit it and found the back of the net fortunately for me."
The forward added, "The goalkeeper was good but I was able to beat him on this shot."
"Obviously they're a physical team," Rochester head coach Bob Lilley said about Lansdowne Bhoys FC. "Their long-range shooting was impressive, they stung a lot of balls from distance … for sure, they were dangerous.
"Overall it was a good win. We knew it was going to be a tough game," the veteran coach continued. "We took the game seriously and we told the guys that it may take a while to crack them. It was always going to be a tricky game and I think we handled it pretty well."
After the game Lansdowne head coach Austin Friel was disappointed but proud of his team's achievements and humble in defeat. Friel said his players knew the mental fortitude that was necessary to play against the defending USL champions.
"I knew they were very good at keeping the ball. I knew they were very dangerous on set pieces. And I knew they can hurt you if you make any mistakes. So we were coming up here basically to keep a good shape, keep a good formation, and to try and frustrate the Rochester Rhinos and to try to take our chances whenever we got them."
We did well for nearly 60 minutes. We gave away a free kick on the edge of the box and fair play to the midfielder, he put it away well. So coming up here, we were expecting a tough game and we got one. The best team won I thought."
The coach reflected on the context of this year's cup run within the club's history. "Obviously it has to be up there with the very best achievements because it's not every day that an amateur team beats a professional team, or even beats a PDL team. But as I said, it's the start of where the club wants to go."
"Whenever you get a taste of what you can achieve, what the players have achieved, you want more. Definitely we'll be back in it next year and try and have a journey again. I think it's been like a 9 or 10 month journey already that we've had. It's been a great experience. The players have really adapted themselves well and deserve all the credit they get."
While Lansdowne Bhoys FC saw their first ever entrance to the US Open Cup end in the Third Round, the Rhinos are looking forward to a Fourth Round match against the New York Red Bulls. Rochester will host the MLS side on June 15 from Rhinos Stadium at 7 p.m.
WordPress database error: [Unknown column 'status' in 'field list']
SELECT `final` AS final_round, `group`, `home_team`, `away_team`, DATE_FORMAT(`date`, '%Y-%m-%d %H:%i') AS date, DATE_FORMAT(`date`, '%e') AS day, DATE_FORMAT(`date`, '%c') AS month, DATE_FORMAT(`date`, '%Y') AS year, DATE_FORMAT(`date`, '%H') AS `hour`, DATE_FORMAT(`date`, '%i') AS `minutes`, `match_day`, `location`, `status`, `league_id`, `home_points`, `away_points`, `winner_id`, `loser_id`, `stat_id`, `post_id`, `season`, `id`, `custom` FROM wp_leaguemanager_matches WHERE `id` = '335' LIMIT 1
WordPress database error: [Unknown column 'status' in 'field list']
SELECT `final` AS final_round, `group`, `home_team`, `away_team`, DATE_FORMAT(`date`, '%Y-%m-%d %H:%i') AS date, DATE_FORMAT(`date`, '%e') AS day, DATE_FORMAT(`date`, '%c') AS month, DATE_FORMAT(`date`, '%Y') AS year, DATE_FORMAT(`date`, '%H') AS `hour`, DATE_FORMAT(`date`, '%i') AS `minutes`, `match_day`, `location`, `status`, `league_id`, `home_points`, `away_points`, `winner_id`, `loser_id`, `stat_id`, `post_id`, `season`, `id`, `custom` FROM wp_leaguemanager_matches WHERE `id` = '335' LIMIT 1