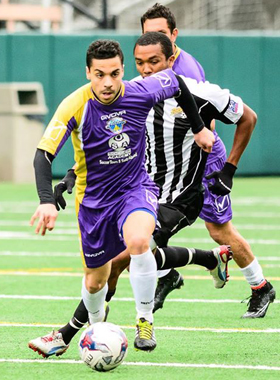 The US Open Cup is perhaps the most compelling sport competition in the United States. An opportunity for amateur clubs to pit their skills against the best professional sides in competitive play – the only such tournament in the "big five" American team sports – is what makes it truly special. A pub team that plays in mismatched kits down at your local park on Sundays could, in theory, end up facing the Major League Soccer champions.
In one of the country's key soccer regions, Washington and Oregon, despairingly few amateur clubs participate in the Open Cup. Why is this? Will recent changes to US Open Cup qualification entice more of these amateur Cascadian clubs to join?
"A BUNCH OF MISFIT KIDS who did something unbelievable. This is what this Cup is about."
Those were the words of Eric Wynalda, shortly after the amateur Californian side that he assembled, Cal FC, knocked MLS' Portland Timbers out of the 2012 tournament.
The Cup has featured its share of inspiring tales that are every bit as marveling as upsets found in glamorous European knockout competitions.
Artur Aghasyan's goal in extra time for Cal FC wasn't the only occurrence of amateurs defeating MLS opposition: Dallas Roma FC knocked out Chivas USA in 2006, while several USL PDL sides have embarrassed MLS opponents, including the Michigan Bucks, who are the only amateur club to have done it twice.
So why haven't these stirring upsets by amateur clubs compelled small teams in Washington and Oregon to participate in the Open Cup?
It's certainly not due to a lack of interest in the sport in Cascadia. Soccer's history in the area extends back 130 years, perhaps formally beginning with the founding of a club in Astoria, Ore. in 1890. With Seattle Sounders and Portland Timbers being part of the original NASL, the USL A-League and finally MLS for the past four decades, Cascadia is no stranger to high-level professional soccer. So too is Cascadia a hotbed of the amateur game: in 1998, Oregon became the first state to win both the men's and women's player-of-the-year titles from the amateur United States Adult Soccer Association (USASA). Large numbers of people play soccer in Cascadia, as the temperate weather is perhaps the most suitable of all American climates for pursuing the sport year-round.
Despite the impressive century-plus history of soccer in Cascadia, the rapidly-growing popularity of pro soccer as a spectator sport (Seattle-Portland is arguably the most intense derby in MLS), and the large number of people who play soccer, there is dispiritingly little involvement by the truly amateur Cascadian clubs in the Open Cup.
The problem certainly isn't Cascadians being unfamiliar with the Cup. Washington and Oregon's professional and semi-pro clubs are regular participants in the tournament, as they are entered by default. This is why we see the Sounders and Timbers participate every year, Kitsap Pumas when they've done well in the USL PDL's Northwest Division, the stronger NPSL clubs, etc. Seattle winning the Open Cup four of the past six years (including three consecutive titles from 2009-2011) has further helped to raise the competition's profile in Cascadia.
What about the truly amateur teams that don't play in the national leagues? There is a plethora of such small clubs in Cascadia, but rarely do any of them partake in the tournament. Their omission is especially glaring when compared to the glut of neighboring interest from amateur Californian clubs, or from the northeast, where so many amateur clubs participate that state tournaments are employed to weed out teams prior to regional qualifiers.
So just how few amateur Cascadian clubs actually enter the Cup? If we exclude the national USL PDL and NPSL, only two Washington clubs have entered qualifying in the past decade: Yakima United and French Soccer Academy, both in 2010.
Interest from Oregon clubs hasn't been much better, with just three clubs known to have participated in qualifiers in the past 10 years: Southern Oregon Fuego of Medford and Capital FC of Salem (both in 2013 from US Club Soccer), as well as IPS/Marathon Taverna of Portland (in the 2014 USASA qualifiers for the 2015 tournament). No amateur Oregon clubs entered between 2007 and 2012 – a span of six consecutive years.
Compare this with California, whose clubs flood the USASA's regional qualifying tournament every year, many of which proceed to the US Open Cup-proper. In 2012, seven of the eight clubs that contested regional USASA qualifying came from California; in 2013, all six participants came from the Golden State. None were from Cascadia.
The European equivalent of Washington and Oregon not entering any amateur clubs in qualifying would be like two English counties – say, Kent and Essex – not sending any nonleague clubs into the FA Cup. That scenario would never occur: with few exceptions, every single club in the top 10 divisions of the English football pyramid enters FA Cup qualifying, and many of them treat the occasion as the highlight of their season.
WHY IS PARTICIPATION by amateur Cascadian clubs in the Open Cup so low? There are numerous factors, but the two primary reasons seem to be a lack of information and the costs of participation.
Most amateur Washington and Oregon clubs expressed frustration regarding a lack of available information about registering and qualifying. Many clubs didn't have the faintest idea about how to enter, and some even thought they were not allowed to enter, ironically mistaking the event as an invitation-only competition.
The majority of club officials felt that their league and state association weren't doing enough to educate teams about how to enter. There was some encouragement for clubs to enter the USASA's National Cup tournaments (which had been used until recently as Open Cup qualifiers); however, leagues and the two state associations tended to emphasize the National Cup itself, rather than explaining the broader picture of qualifying for the Open Cup through the National Cup. Many clubs were simply not aware that this competition was the qualifying route into the US Open Cup for most amateur teams.
At the time this article was published, the Washington State Adult Soccer Association (WSASA) website's US Open Cup page contained only scant information. The page hadn't been updated in more than two years, and the application form was for the 2013 National Cup tournament.
The Oregon Adult Soccer Association's website also offered few details. Only a single mention of "US Open Cup" appeared on the entire website: a brief reference to a club intending to enter, buried in meeting minutes from 2010. A tournament page does exist, but offered little information, and included an email address to contact rather than an information package. To the OASA's credit, they did compile a thorough National Cup information package for 2015, but rather bizarrely it wasn't available on their website when this article was published.
Most amateur club officials, including Lachlan Huck of UW Club and Darya Saber of Pars FC (both in Seattle), stated that having all of the qualification information available in a single location would make understanding the registration and qualification processes much easier.
Perhaps the greatest deterrent to amateur Washington and Oregon clubs participating in the Open Cup is the costs – the financial requirements, long travel (flights and hotels), and players having to take time off from work.
Club representatives, including Kirk Gallagher of Thirsty Lion FC (Portland), said that they would be much more willing to enter if financial assistance was available to cover these costs. Most amateur clubs do not receive significant sponsorship or funding, and thus the costs generally fall to the playing squads and their families.
Admittedly some money is available, but few amateur clubs actually receive it. The majority of club officials were unaware of the $15,000 award for the amateur club that advances the furthest into the Open Cup each year. However, this award arguably offers limited incentive: only one club receives this money each year, and it's usually a USL PDL club that wins it, meaning that the proverbial pub teams mulling over whether to participate won't be highly swayed by such a prize.
Costs are such a factor that many clubs have been encouraged to enter the USASA Amateur Cup instead of the Open Cup due to the lesser expenditures. For example, until a couple of years ago, it was considered the "default" for Oregon Premier Soccer League champions to enter the Amateur Cup. While this may be more financially pragmatic for amateur clubs, having organizing bodies effectively discouraging clubs from entering the US Open Cup doesn't bode well for the competition.
Planning long-distance travel for an entire playing squad is also considered to be an "organizational headache," said Jason McMillen of Kells FC Swoosh (Portland). Several club representatives, including Moises Arellano of DNA FC and Cole Dahle of Suki's SFC (both in Portland), mentioned that they would be much more willing to participate in Open Cup qualifiers if the location was closer to home; the USASA's regional tournaments are often held in southern California.
Taking time off work as amateur players to compete in the US Open Cup is especially burdensome in a country where most employees only receive 10 annual vacation days. A successful qualification campaign followed by a couple of wins in the tournament-proper could easily eat into an entire year of vacation.
In addition to a lack of information and the prohibitive costs, the sheer volume of potential tournaments to choose from perhaps also deters amateur clubs from entering. For example, Cascadia has an existing amateur championship, the John F. Kennedy Cup, which is contested between the league champions of Washington, Oregon, and British Columbia. It dates back to 1961, and has thus become an embedded part of amateur club culture in Cascadia. It is just one of a myriad of tournaments, including the USASA Amateur Cup, that compete with US Open Cup qualifiers for the limited time and resources of Cascadia's best amateur clubs.
In short: the situation for prospective US Open Cup amateur entrants from Washington and Oregon is a lack of information, a lack of resources to cover the expenses of travel, as well as the lesser issue of numerous tournaments to choose from.
CHANGE LIES AHEAD. US Soccer announced in June that they will take over responsibility for US Open Cup amateur club qualification as of the 2016 tournament. Rather than have each separate body – such as USASA, US Club Soccer, and the US Specialty Sports Association – manage the qualifying process of their amateur member clubs, US Soccer will run a standardized and unified qualifying process for all amateur sides.
What will this format refinement mean for amateur Cascadian clubs considering entry in the Open Cup? For starters, there are several positive outcomes. The leagues and state associations that are either ambivalent about the US Open Cup or just don't have the resources to adequately promote it are now mostly out of the picture, with US Soccer's national office taking over the administrative duties instead. It should become easier to inform clubs about the Open Cup and its amateur qualifying process, since qualifying will be standardized, and promotional efforts funded by US Soccer. A single "how to enter the US Open Cup" publication can now be created that would apply to all amateur clubs, regardless of their location or organizational membership. (Note: A "how to enter" article will be available on TheCup.us very soon)
Of the two aforementioned major barriers – lack of information and money – this administrative change should help alleviate the lack of information. However, the dearth of money remains a considerable obstacle.
Additionally worrying is that the revised amateur qualifying format may inadvertently create several new problems for prospective Open Cup entrants from Washington and Oregon. First, the creation of a separate competition for Open Cup qualification will result in yet another tournament for Cascadian amateur clubs to have to choose from. Will they opt to qualify for the US Open Cup, enter the aforementioned John F. Kennedy Cup (founded 1961), or vie for the USASA's U23 Championship (as South Sound FC of Washington's Evergreen Premier League does)? The realities of amateur club life would prevent most teams from entering all three tournaments; Open Cup qualifying is almost certainly the most expensive, and thus perhaps the most likely for clubs to shy away from.
A second problem with the new qualifying process is the possibility of amateur clubs having to travel several times instead of just once. The new format could see clubs playing as many as five qualifying matches, spread over the autumn and spring. This could require multiple away trips, with some (or possibly all) necessitating flights, hotels and time off from work. Compared to the USASA's previous Open Cup qualifying format, in which teams only travelled once and played all of their qualifying matches in a single weekend, the new process looks to be a much greater travel commitment.
A third problem with the new format is the decreased amount of preparation time between when an amateur club qualifies for the US Open Cup and the start of the tournament. Just last year, the USASA changed its qualifying process so that there would be a 10- to 11-month gap between qualifying and the start of the US Open Cup. This allowed amateur clubs significant time to raise funds, organize travel, and book time off work well in advance. Prior to that, amateur clubs qualified just several weeks before the start of the US Open Cup, leaving them scrambling to prepare for it. Under the recently-announced qualifying process, if more than three rounds of qualifying are necessary, an amateur club wouldn't qualify until March or April for a tournament that begins in May. This is a potential regression back to a situation where clubs are left with very little time to prepare for entry.
AFTER YET MORE TINKERING with the Open Cup format, the competition has likely not become much more appealing for amateur Cascadian clubs. While one of the major problems (lack of information) may be better dealt with, the other major existing barrier (costs) hasn't been resolved, and the new format creates several additional problems, including the inexplicable return of a lack of preparation time. Obviously this latest change won't be the panacea that causes amateur Cascadian clubs to enter the Open Cup in droves.
So which additional reforms need to occur before amateur clubs from Washington and Oregon can become truly excited about contesting the US Open Cup? Three things. First, clubs need to be compensated for their travel and time off from work at an absolute minimum. Before we begin to discuss rewards for winning matches, clubs need to have a good chunk of their costs covered simply for entering the qualifying rounds. While clubs in England's FA Cup only get paid if they win (rather than merely enter), they usually only travel up to 90 minutes away during qualifying rounds, and thus don't require travel stipends. Compare that to a northern Washington club having to possibly travel to southern California and we can see how quickly costs can escalate for amateur Cascadian clubs. The English equivalent would be an amateur London team travelling to Spain or Italy for an early-round FA Cup qualifying match – the sort of distances English Premier League clubs only trek when competing in UEFA competitions. Travel logistics are appreciably burdensome in the USA, and this needs to be parried with financial incentives for amateur clubs.
Where would this money come from? According to the Washington Post, US Soccer expected to receive $20 million in sponsorship for the 2015 fiscal year. If 0.5 percent of that sponsorship could be secured for amateur clubs in the US Open Cup, that would result in $100,000 to help alleviate costs. Even better would be to secure additional corporate sponsorship exclusively for the Open Cup, which would see that figure increase several-fold. At that point, US Soccer could go beyond merely covering costs and start paying out additional reward money for matches won.
A second issue that requires further reform is the glut of tournaments that amateur clubs in Cascadia must choose from. In the ideal world, the least important competition would be folded, but they all have history and stature: the JFK Cup goes back to 1961, while the Amateur Cup goes back to 1923. Historians would have a fit if any of these were put on the chopping block. The best solution may be some sort of overlap, perhaps by using the Amateur Cup regional qualifiers as the initial qualifying rounds of the US Open Cup. This would, however, require US Soccer to reacquire responsibility for the Amateur Cup from the USASA, and open it to all amateur clubs.
Finally, a third issue requiring further reform is preparation time (or a lack thereof), which has unexpectedly come creeping back into the Open Cup qualifying process. This shouldn't be hard to remedy. Stage the qualifying tournament a year or so in advance of the US Open Cup: for example, the 2016/17 qualification campaign that ends as late as April 2017 would enter clubs into the 2018 Open Cup that begins May 2018. It's not ideal – especially if a club only needs three qualifying rounds and ends up securing entry in autumn for a tournament that begins some 18 months later – but not much about being an amateur club is ideal. And isn't that ultimately the beauty of the US Open Cup?
Devon Rowcliffe is a writer based in Vancouver, Canada. His interest in soccer includes formal supporter involvement in clubs (including fan ownership), national knockout cup competitions, as well as growth in the quantity and quality of North American lower-division and amateur clubs. Rowcliffe spent three years in England, including briefly serving on the committee of London non-League club Hanwell Town. He is currently writing a book, Who Ate All The Squid? Football Adventures in South Korea, premised on following a Korean soccer club home and away for an entire K-League season. He can be found on Twitter at @WhoAteTheSquid, and his writing collects dust at http://devonrowcliffe.work.