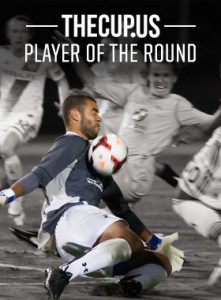 In the Lamar Hunt Open Cup tournament, goal scorers usually garner the lion's share of the fans adoration, but every now and then, the man between the posts takes center stage and deserves recognition. Earl Edwards Jr.'s Third Round performance in PSA Elite's (USASA) victory over LA Galaxy II (USL PRO) is one such instance, as his play captured the fans and media's attention earning the goalkeeper TheCup.us Player of the Round award in the process.
The award is voted on by TheCup.us staff and a select panel from the North American Soccer Reporters. Edwards Jr. becomes just the fourth goalkeeper since 2011 to win the award, and the first since Bill Hamid and Joe Willis of DC United won the award back-to-back for the 2013 Final and Semifinal, respectively.
Unlike the voting for the Second Round's award, the voting was much less wide open. It was basically two-horse race between Edwards Jr. and Blake Smith of Indy Eleven who accounted for all five of his team's goals with a hat trick and two assists in a 5-2 home win over the Dayton Dutch Lions (USL PRO).  No other player received more than 3 total votes as almost all of the first and second place votes went to either Edwards Jr. or Smith. In the end, Edwards Jr. finished 18 first-place votes and Smith finished with 14.
The UCLA captain and US Under-20 international helped PSA Elite become the last USASA club standing in this year's tournament by stopping everything that came his way. Edwards Jr. racked up 14 saves throughout the game including a save in the 81st minute on a penalty kick taken by Galaxy forward Travis Bowen that would have broken the scoreless tie. After a pair of scoreless halves in extra time, Edwards Jr. proved resolute in the ensuing series of penalty kicks saving two of the Galaxy's attempts helping to send PSA Elite through to the fourth round.
"Going into the game we knew we were the underdogs, so we knew that as a team we were going to have to make some plays," said Edwards Jr. "Fortunately, I was able to make some plays alongside my team who were strong defensively."
"Being underdogs we all had something to prove," added Edwards. "As a group of college players, we all want to play at the next level. Getting the opportunity to compete against a professional organization gave us extra motivation, and thankfully we're moving on to play another one."
The win earned PSA Elite a trip to Seattle to face three-time US Open Cup champions the Seattle Sounders. This is the farthest the Irvine, California club has progressed in the three consecutive years that the USASA side has competed in the tournament. PSA Elite are one of three amateur clubs still competing in this year's tournament. They are just the third USASA club to ever reach the Fourth Round after Cal FC (2012) and Dallas Roma FC (2006) who both upset Major League Soccer teams to reach Round 4.
Edwards Jr. performance in the Third Round is indicative of ability on the field. He has captained UCLA for the past two years and earned a bevy of awards throughout his collegiate career, including First-Team All-Pac 12 honors in 2013. Edwards Jr.'s coaching staff at UCLA – particularly assistant coach Nick Carlin-Voigt – urged the standout goalkeeper to get as many games under his belt as possible, and PSA Elite offered Edwards Jr. the opportunity to compete at a high level during the college offseason.
"PSA Elite has a history of fielding UCLA players, and I knew they were a quality side continually playing in the Open Cup," said Edwards Jr. "Nick reached out to them and they were happy to have me, and I was excited to play for them."
"The fact that they are in the Open Cup and able to compete at that level was appealing to me," added Edwards Jr. "Once I attended a few training sessions and played with the team, I knew that we could make a run in the tournament. In the end it was an easy decision to join PSA Elite."
Edwards Jr. and PSA Elite will be looking to continue their fine run of success in this year's tournament and take down another professional opponent when they take on the Seattle Sounders June 18 at Starfire Stadium in Tukwila, WA. It will be a challenge for the amateur side as not only will they face a quality MLS side, but they will do it in front of a packed stadium as the match has already sold out.
2014 TheCup.us Player of the Round winners
Round 1: Vlad Baciu (RWB Adria – USASA)
Round 2: Luke Winter (Chattanooga FC – NPSL)
Round 3: Earl Edwards Jr. (PSA Elite – USASA)