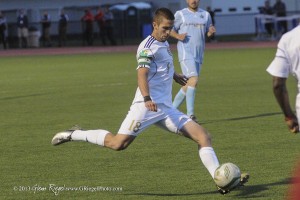 A first half full of missed opportunities had Reading United worried, but two goals early in the second half of its US Open Cup tilt against Lehigh Valley United Sonic were enough to calm those nerves.
"When you hit the crossbar, the post, and have two cleared off the line, it's frustrating," Reading United coach Brendan Burke said. "What we said to the players at halftime was that it was coming. We made a few adjustments tactically, and it paid off right away."
Those adjustments included moving midfielder Darius Madison into a more forward position. Madison made that formation change count in the 50th minute. Reading forward Larry Ndjock played Madison in on a one-on-one with the keeper. Madison slotted it past the goalie to give the PDL side a 1-0 lead.
Steve Neumann doubled Reading's lead in the 55th minute with a crazy shot taken from a near-impossible angle. Deep in Lehigh Valley's half, Wes Charpie threw the ball in to Neumann. While dribbling into the penalty area along the end line, Neumann decided to take a shot. The result was a blistering attempt that got past the Sonic goalie.
Burke said, "That's Steve Neumann. He's got abilities other players in the country don't have. He has technical ability and awareness. He sees thing that other guys don't see. That's why he's our captain. He's that good."
Lehigh Valley United Sonic out of the NPSL did not go down without a fight. After Reading's second goal, Sonic began to see more of the ball and threatened United's net several times. In the 59th minute, Lehigh Valley's Kyle MacDonald forced a save from Reading's goalie, John McCarthy. LVU's Ryan Jones tested McCarthy again in the 68th minute with a blistering shot from 30 yards out.
"Our guys battled like crazy. Our guys worked really hard. I thought we fought for the entire 90 minutes. We'll learn from and move forward," Lehigh Valley coach Dave Weitzman said.
The second half, which was full of action, was a complete contrast from the first. While Reading United had much of the possession, they struggled to turn it into quality attempts. It wasn't until the 18th minute that Reading finally got a quality chance when Manolo Sanchez hit a volley that beat the keeper and hit the crossbar.
Lehigh Valley got several shots on goal, but it would be Reading that had the next near-chance. Off of a corner kick, a United shot hit the post, was cleared off the goal line, then skied over the net from less than six yards out. It turned out that those missed opportunities did not hurt Reading, but the team will have to be more clinical when it takes on its second-round opponent—the USL Pro squad and Reading's affiliate Harrisburg City Islanders.
"It's unfortunate that we have to play our own affiliate. I obviously know a lot about them," Burke said. "They're difficult to stop. They're extremely fast. That's a huge mountain for us to climb to get through that next round."
Reading United 2:0 Lehigh Valley United Sonic
Oley Valley High School – Oley, Pa.
Scoring Summary:
RU: Darius Madison (Ndjock) 50
RU: Steve Neumann (Charpie) 55
Lineups:
Reading United: John McCarthy; Wes Charpie, Jonny Dolezal, Jimmy Ockford, Ben Sweat; Keegan Rosenberry, Darius Madison (Dante Marini-71), Steve Neumann, Manolo Sanchez; Mario Pinto Neto (Melvin Snoh-77), Larry Ndjock (Bryce Follensbee-71)
Lehigh Valley United Sonic: Charlie Sales; Ali Famili (Christian Kaschak-46), Reed Norton, Ryan Jones, Tyler Witmer; Tom Mustac, Hunter Norton, Andy Adlard (Michael Gonzalez-62), Emmanuel Joseph, Ciuffetelli (Kyle Macdonald-77); Joe Sales
Discipline:
RU: Ben Sweat (caution – 45)
RU: Larry Ndjock (caution – 63)
LVU: Joe Sales (caution – 82)