The much anticipated Eastern Pennsylvania US Open Cup semifinal match between United German Hungarians and the Predators took place on Sunday at the soccer cathedral known as the YSC sports complex in Wayne, Pa. The United German Hungarians, making their fifth straight semifinal appearance, advanced to the championship game with a narrow 1-0 victory over the Predators, who were making their first appearance in the competition.
With the win, UGH will advance to Saturday's title game against defending champion West Chester United. The match will be hosted by United with the kickoff scheduled or 2 p.m. (Map to the game) The winner will take the next step toward qualifying for the 100th edition of the Lamar Hunt US Open Cup by qualifying for next spring's USASA Region I Finals.
The match was originally to be played at UGH's home field in Oakford, Pa. last Sunday, Dec. 9, but had to be rescheduled due to poor field conditions caused by heavy rain. The game was then moved to the YSC sports complex, which is the facility the Philadelphia Union use for preseason training, and the home to the YSC Union Juniors.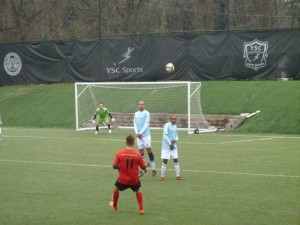 Sunday's semifinal was a true battle for the entire 90 minutes with both teams playing with rosters full of skill and experience. Everyone from former Union academy players, to current and former college players, to veterans of the professional ranks.
The Preds were dealt a blow early in the game when Tom Greenawalt, a former pro with the Reading Rage (now Reading United), took down a UGH player inside the box and referee John Barr called for a UGH penalty kick. Before the kick was taken, Greenawalt, continued to argue the call until the official had enough and sent him off. The Predators, a talented over-30 team, were down a man and shortly after, down a goal as Elsion Pajolarri converted the spot kick. Despite playing with 10 men, the Pred's defense held UGH to 1-0 at the half.
In the second half the shorthanded Predators moved the ball well and managed to create a number of chances, but none of them went their way. Peter Pittaoulis had a shot on goal that just went right of the goal post, and Tomasz Fryzel had a free kick opportunity that went just above the crossbar. The best opportunity came from Joe Ferrero, who dribbled inside the box and had a shot on frame that hit the post. UGH had a strong defense that kept their lead and kept a clean sheet for goalkeeper Jimmy Clark.
The Hungarians, an Open Cup runner-up in 1977 and 1993, move on to the Eastern Pennsylvania Open Cup championship game as they attempt to win their sixth title since 1995.
2013 Eastern PA Open Cup Tournament
(home team listed second)
First Round (Nov. 11) [+] Recap
Cavalla FC 1:0 Ukrainian Nationals (Oct. 28)
Quakertown 3:2 Colonial Ultras
Junior Lone Star 6:0 Mayfair Celtic
Nether United 1:1 Phoenix SC (Nether United advances, 7-6 in PKs)
Predators 1:0 Vereinigung Erzgebirge

Quarterfinals (Dec. 2) [+] Recap
Quakertown 0:4 West Chester United
Cavalla FC 4:0 Salone
Junior Lone Star 0:3 United German Hungarians
Predators 0:0 Nether United (Predators advance 5-4 in PKs)

Semifinals
Cavalla FC 1:2 West Chester United (Dec. 9) [+] Recap
Predators 0:1 United German Hungarians (Dec. 16)

Final (Dec. 22 – 2 p.m.)
United German Hungarians at West Chester United
(Map to the game)

Past Eastern PA Open Cup champions:
1997: United German Hungarians
1998: United German Hungarians
1999: United German Hungarians*
2000: United German Hungarians
2001: DiPasquale's
2002: Vereinigung Erzgebirge*
2003: Ukrainian Nationals
2004: Lighthouse SC
2005: Ukrainian Nationals
2006: Ukrainian Nationals
2007: Vereinigung Erzgebirge (Runner-up Ukrainian Nationals also qualified for Region I Finals)
2008: United German Hungarians
2009: Vereinigung Erzgebirge
2010: Phoenix SC
2011: Phoenix SC*
2012: West Chester United Predators

* Qualified for the Lamar Hunt US Open Cup