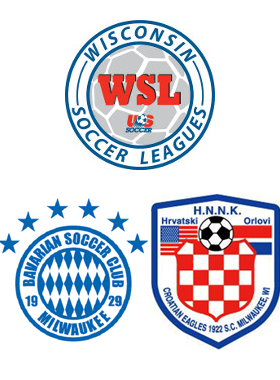 Story originally published at WisconsinSoccerCentral.com, the state of Wisconsin's premier soccer news website. Follow them on Twitter @WisconsinSoccer
It's been a fall full of change for longtime rivals Croatian Eagles and Bavarian SC, two of the state's most successful amateur clubs.
Both teams have new faces in their lineups and the Bavarians have a new manager in Patrick Hodgins, who previously coached the Croatians' Under-23 team.
With that backdrop, though, perhaps it was fitting that the lone goal in the teams' Wisconsin Open Cup final Saturday afternoon was scored by a familiar face.
Veteran Jason Willan came through for the Eagles once again, curling in a shot from 14 yards out in the 50th minute as the Eagles got past Bavarian SC 1-0 at Croatian Park in Franklin.
Bryce Boyd (Milwaukee Marquette/UW-Milwaukee) posted the clean sheet for the Croatians, who earned a berth in next spring's US Adult Soccer Association Region II tournament. The top finishers in the regional event traditionally qualify for the Lamar Hunt US Open Cup.
"It was a pretty even game," said Eagles manager Alex Toth, whose team won its second straight Wisconsin Open Cup and is the reigning USASA National Open Cup champion. "We played our normal game: Get it down on the ground, get some combinations, try to attack. They sat back, defended really well, were dangerous on set pieces and they were dangerous on the counter. It was an interesting game."
Willan's goal capped a sequence that featured six or seven passes, Toth said. Mohammed Sethi (Mequon Homestead) played the final pass to Willan on the left side of the box, and the 41-year-old midfielder sent a shot past Bavarians goalkeeper Matt Schmidt (Racine Horlick/UW-Milwaukee) into the right corner.
"He had a nice, open look and just buried it far post," Toth said of Willan, in his 14th year with the club. "It was a great finish. He's done it all year this year, all the things we needed, and he came up big again."
The goal proved to be enough – but just barely.
The Bavarians, who lost to Croatians 2-0 in a Wisconsin Soccer Leagues Major Division match Sept. 20, came tantalizingly close to finding an equalizer in the final minutes.
A ball was played through traffic across the box and surprisingly found striker Kyle Zenoni (Hartland Arrowhead/UW-Milwaukee) alone inside the 6-yard box with Boyd still on the other side of the goal. However, Zenoni – a UWM assistant who coached the Panthers in their 2-1 win over Valparaiso on Saturday night – didn't see the ball and couldn't get a shot off toward the vacant net.
"It just hit him and kind of got caught up in his feet and they cleared it," Hodgins said.
"We got a little lucky there," admitted Toth, whose team needed penalty kicks to get past the Milwaukee Kickers in last fall's state Open Cup final.
Neil Dombrowski (West Allis Hale/UW-Milwaukee) created some chances for the Bavarians in the first half with his service on some set pieces, including free headers off corner kicks that his brother Chad Dombrowski (West Allis Hale/UW-Milwaukee) and Billy Maier (Racine St. Catherine's/UW-Milwaukee) sent over the crossbar.
"We had plenty of opportunities to score," said Hodgins, who was coaching just his second match with the club. "Even though we lost, there were definitely positives you can take from it. I think it will give us confidence going forward. I think our guys know that we can play with a team like that."
The Bavarians are 1-3-1 in the WSL Major Division with two rescheduled matches coming up in the next week. The Croatians lead the league at 4-0-2 with one game left, but Toth has seen a difference in his team this fall.
"It's been a struggle," he said. "Last fall, we could usually separate ourselves from the other team in most games, but this fall it's been a struggle.
"I think one of the biggest factors is that we've been playing since March. … Some of the players, you can really tell that they are burnt out."
Lineups
CROATIAN EAGLES: Bryce Boyd; Scott Widule (Shaun Gallagher), Billy Von Rueden, Aaron Schroeder, Stuart Grable; Cheik Drame (Gustavo Mena), Scott Raymonds; Mohammed Sethi (Mike Vukovic), Jason Willan (Spencer Bursten), Ilya Ksenidi; Aaron Lauber.
BAVARIAN SC: Matt Schmidt; Nate Sabich, Billy Meier, Will Chaney, Jake Taylor (Giovanni Luna 30, Hector Navarro 80); Chad Dombrowski, Craig Posselt; Josh Chamberlain (Dan Stebbins 75), Neil Dombrowski, Jake Provan (Martin Castro 60); Kyle Zenoni.