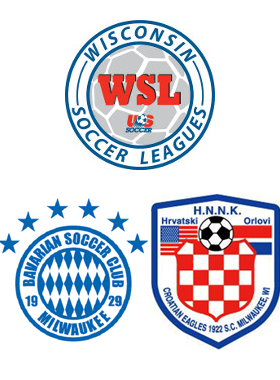 Story originally posted at WisconsinSoccerCentral.com, the state of Wisconsin's premier soccer news website. Follow them on Twitter @WisconsinSoccer
Only two clubs entered the 2013 Wisconsin Open Cup.
But they're two clubs with rich histories, both recent and otherwise.
Bavarian SC, one of the most successful amateur clubs in the Modern Professional Era of the Lamar Hunt US Open Cup, will face the Croatian Eagles, the reigning US Adult Soccer Association National Open Cup champions, in the state final Nov. 3.
Kickoff is scheduled for 2 p.m. at Croatian Park in Franklin. The Eagles were awarded home-field advantage for the match as the defending state champions; they outlasted the Milwaukee Kickers 5-4 on penalty kicks following a 1-1 draw in the 2012 final played last October.
The Wisconsin Open Cup champion earns a berth in the USASA Region II tournament.
The Croatians won two matches in the Region II tournament last April, then were awarded a forfeit victory in the regional final in June. They went on to become just the second Wisconsin club to win the USASA National Open Cup, following the Bavarians, who claimed titles in 2003 and '09.
Bavarian SC, meanwhile, has qualified for the US Open Cup six times since 1995, the most appearances of any USASA team during what is considered the Modern Professional Era of the tournament – the 2013 event will be the 100th US Open Cup.
The Eagles (4-0-2) currently lead the Wisconsin Soccer Leagues Major Division, including a 2-0 victory over Bavarians on Sept. 20. Bavarian SC is off to a slow start in league play this fall at 1-3-1.
Making this match even more intriguing is the fact that Patrick Hodgins, who coached the Croatians' Under-23 team to the USASA national final last summer, recently took over as manager of the Bavarian SC Majors team. Hodgins replaced Matt Schmidt, who was the team's interim coach and continues to play for Bavarians.
Recent Wisconsin Open Cup champions
2012: Croatian Eagles
2011: No entries (Bavarian SC's paperwork lost by state association)
2010: Milwaukee Kickers
2009: Bavarian SC
2008: Bavarian SC
2007: Bavarian SC
2006: Croatian Eagles
2005: Milwaukee Kickers
2004: Bavarian SC
2003: Bavarian SC