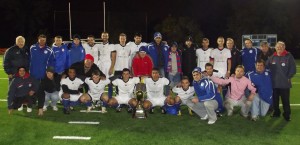 Qualifying for the 2013 Lamar Hunt US Open Cup has technically begun, as the registration deadline for the Illinois state tournament has passed. RWB Adria, the Illinois champion four of the last six years, is the lone entry from the state this year and will receive an automatic berth into the 2013 USASA Region II Finals.
RWB Adria, the Chicago-based club that was founded in 1959, has been a regular entry into Open Cup qualifying since the 1990s. They have qualified for the tournament three times (1996, 2007, 2008) during the Modern Professional Era (1995-present), but have failed to win a game each time.
In their last trip to the tournament in 2008, they traveled to Rochester and took the Rhinos of the USL First Division (Division 2) to extra time before falling 2-1. Since then, they have fallen one win short of qualifying, losing in the Region II Semifinals in 2009 and 2011.
The best finish for the club came in 1991 when they reached the Semifinals, only to be disqualified for the use of an ineligible player.
Despite several strong clubs in the Chicago-area, and a strong history of participation in the Land of Lincoln in years past, very few teams have entered the tournament recently.
Eight teams took part in 2005, followed by two in 2006, four in 2007 and 2008, and just one (RWB Adria) in 2009. The last three years, RWB and AAC Eagles have been the only two teams to compete with Adria winning the last two.
"I think fewer teams are entering because they depend so much on college players and those players aren't available when qualifying is going on ," said Ante Loncar of RWB Adria. "We just love the tournament because it's the only way we can play teams that we wouldn't normally play, like Bavarian SC or Detroit United. Plus, we just love to travel."
RWB Adria recent qualifying results
2007 – Won Illinois championship (qualified for US Open Cup)
2008 – Won Illinois championship (qualified for US Open Cup)
2009 – Only Illinois entry (Lost in Region II Semis)
2010 – Lost in Illinois Final ( 2-0 vs. AAC Eagles)
2011 – Won Illinois championship (Lost to AAC Eagles in Region II Semis)
2012 – Won Illinois championship (Lost in Region II First Round)