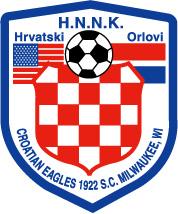 When one of the oldest cup competitions in the world kicks off Tuesday night, one of the nation's oldest clubs will be part of the action.
And the Croatian Eagles, formed in 1922, just might have the oldest player in the 99th Lamar Hunt U.S. Open Cup.
Jason Willan is expected to be in the lineup when the Croatians, based in the Milwaukee suburb of Franklin, face PDL side Chicago Fire Premier in a first-round match at the Toyota Park Practice Field in Bridgeview, Ill.
At 40 years old, Willan likely will be literally twice the age of some of the Fire Premier players.
"I do get a kick out of it – it has yet to rub me negatively, put it that way," Willan said with a chuckle.
"But sometimes you get the comments on the field – you know, 'Sit down, old man,' stuff like that. You know what? I kind of swallow that, that's fine, whatever. But don't let me get the best of you. Watch your mouth if I go past you. It still makes it fun for me."
This spring has been plenty of fun for the Croatians, who made the most of an unseasonably warm spring in Wisconsin and have been training and playing matches for two months. Conversely, the Fire Premier were scheduled to hold their first training session last Friday.
The Eagles blanked two of Illinois' top amateur teams, fellow Croatian club RWB Adria and Polish side AAC Eagles, by identical 2-0 scores in the U.S. Adult Soccer Association Region II tournament April 14 and 15 in Bensenville, Ill., to earn their first Open Cup berth since 2006.
That year, the Croatians traveled to Iowa to face the PDL's Des Moines Menace, falling 4-1 in the qualifying round. Willan scored the Eagles' lone goal on a penalty kick in the 72nd minute after the home team had scored the first three goals of the night.
His only other Open Cup appearance came during his time with the Milwaukee Rampage of the A-League, a 2-1 home loss to the Orlando Nighthawks in a second-round match in 1998. Willan played six years with his hometown team before ending his outdoor career with the Minnesota Thunder in 2003 – he also played six seasons indoors, three each with the Detroit Rockers and Milwaukee Wave.
2011-12 Croatian Eagles results
Wisconsin Major League
Oct. 2 Milwaukee Kickers 1-0 W
Oct. 9 Milwaukee Sport Club 4-0 W
Oct. 16 at Madison United 2-1 W
Nov. 6 at Bavarian SC 1-1 T
Nov. 12 Club Latino 7-0 W
Nov. 13 Milwaukee Brewers FC 9-0 W
Nov. 20 United Serbians 2-2 T
April 29 at Milwaukee Brewers FC 6-0 W
Wisconsin Open Cup
Oct. 23 Semifinal – Bavarian SC 2-1 W
Oct. 30 Final – Milwaukee Kickers 2-2 T
(Croatian Eagles advance 5-4 on PKs)
USASA Region II Open Cup
April 14 Quarterfinal – RWB Adria (Ill.) 2-0 W
April 15 Semifinal – AAC Eagles (Ill.) 2-0 W
While Willan grew up playing for Milwaukee Sport Club, one of the Croatians' rivals in the ethnic-dominated Milwaukee soccer scene, he said he started training with and playing for the Eagles between pro seasons about 13 years ago. He hasn't left yet.
"There's a lot of quality history to the club," Willan said of the Croatians, who also played in the National Challenge Cup – which was later re-named the U.S. Open Cup – in 1943 and '45.
"The club is quality, the organization from top to bottom, they just take a little more pride than some other clubs. And the players get treated well for the amateur level – that's a big part of it. For me, seeing the professional side of it, you know this club is not far off from treating their players the same way. … You feel comfortable at the club."
And despite his age, Willan still feels comfortable in his attacking midfield role in the Croatians' 4-5-1 formation.
"He still has the drive, and he brings a really nice settling presence to the team when he's on the field," Eagles manager Alex Toth said of Willan. "He was considering retiring (during the winter), but he still has that drive and he's a huge asset for us. That experience and the way he strikes the ball, his vision, it works well."
Willan acknowledges that he's had to adjust his style as he's gotten older.
"Let's face it, most sports nowadays are a bigger, better, faster type of thing. For me, it's a way of thinking, it's a different style. I think I've changed," he said. "Speed of play is such a huge part of soccer. … I think it's a matter of being smarter and reading things and angles."
He's also become a leader for a team with a diverse roster of young and old. Willan wears the captain's armband and refers to himself as a "mini-adviser" for Toth, while "still trying to lead by example – but sometimes the body doesn't agree with that."
What hasn't changed is his commitment, to train and stay fit and to compete at the highest level possible. "I've got to say, at the age of 40, I've got no problem getting fired up," he said with an edge of excitement in his voice. "There's still a lot of passion."
He's especially fired up about playing Fire Premier. Not because he wants one more shot at playing a pro team – the winner will face the Dayton Dutch Lions of USL Pro in the second round on May 22 – but because he loves to match wits against new opponents and thinks that this Croatian Eagles team could surprise some people.
"At this age, I have nothing really personal to shoot for," Willan said, "but I'm involved with a team and we can do things, stuff that's not expected of us. As long as I've been around, I'm not going to say this is the best team I've played with, but there's a lot of depth to this team and a lot of balance, and balance meaning the experience, the youth, and college players coming and filling voids that we had."