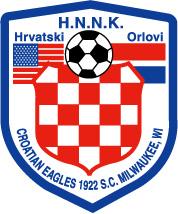 Recap courtesy of Wisconsin's premier soccer news website, WisconsinSoccerCentral.com
Aaron Lauber split his lip open in the first half of Sunday's match at the USASA Region II Open Cup.
The Croatian Eagles were able to patch up the gash and kept the striker on the pitch at the top of their 4-5-1 formation.
"We wanted to keep him in … because we knew he might get a chance to get his head on something," Croatians coach Alex Toth said.
The move paid dividends, as Lauber got the slightest of flicks on a free kick by Scott Raymonds to give the Croatians the lead in the 61st minute, and the Milwaukee club went on to a 2-0 victory over Chicago's AAC Eagles at Redmond Recreational Complex in Bensenville, Ill., to earn a berth in the 99th Lamar Hunt U.S. Open Cup and the USASA regional final.
Ramon "Choko" Alvarado added an insurance goal in the 85th minute for the Croatians, who last qualified for the U.S. Open Cup in 2006. They'll play another amateur team in one of 16 first-round matches on May 15.
"It was a lot of preparation, a lot of planning, but at the end of the day, it comes down to the players performing," said Toth, who had the team train and play on FieldTurf as much as possible leading into the weekend to prepare for the tournament at Redmond. "I can pull some strings here and there, but the players have to score, they have to defend, so I give them all the credit."
Raymonds also set up Alvarado's goal with a long throw that got through a few AAC Eagles defenders and played a role in three of the team's four goals on the weekend, having scored the final goal in Saturday's 2-0 win over Chicago Croatian rival RWB Adria.
Alvarado scored in both matches, with Lauber assisting on his strike Saturday. Veteran goalkeeper Ante Cop posted clean sheets both days, with help from a stout backline anchored by center backs Mike Narciso and Aaron Schroeder.
Toth made just one change in his starting 11 from Saturday, moving Tony Patterson in at right back in place of Cheikh Drame, who was dealing with a shoulder injury. AAC Eagles, a Polish ethnic club which has made four U.S. Open Cup appearances in the past 10 years, won the coin toss and chose to attack with the significant wind at its back.
"So although we had a couple opportunities – we got forward some – the biggest part is you're just trying to make sure you're not giving up long-distance shots. Anything was dangerous when they were going with the wind, so we just wanted to get through the first 45 (minutes) 0-0," said Toth, whose team accomplished just that. "We felt good going into the second half."
Raymonds stood over a free kick about 45 yards out, and with that brisk breeze behind him, launched the ball into the box. Lauber's slight touch redirected the ball, sending it in the opposite direction of the AAC Eagles keeper.
The Illinois side tried to push forward for an equalizer, but playing into the wind proved difficult.
"If they tried to go over the top or play through balls or diagonal balls against the wind, it was pretty tough, so that helped us. And anytime Cop got the ball in the goal, he was able to either hit a 60- or 70-yard punt or a 60-yard goal kick and run off Lauber or whoever else was on top," Toth said. "Once we got that one goal, I don't want to say you ever feel comfortable, but it's like, 'All right, they're playing against the wind, I think we're in pretty good shape.' "
Toth took Lauber off shortly after his goal – he ended up needing eight stitches in his lip – and moved Alvarado from the left flank up to striker with Ilya Ksenidi taking over on the left side, and also brought on Drame for starting left back Scott Widule. The duo of Ksenidi and Drame were tasked with slowing down AAC Eagles standout David Otachel, who scored five goals in Saturday's 7-1 rout of Michigan's Ann Arbor Elite.
The Croatians have more matches scheduled against college teams – they're playing at the UW-Oshkosh tournament next Saturday along with UW-Green Bay and Concordia and will face Carthage on April 26 – before opening the Wisconsin Adult Soccer Association Major League spring season April 29 on the road against Milwaukee Brewers FC.
"We're lucky we're able to get quality players and we're lucky because we have a great club that has been able to provide for us to play at places when we need to … not everyone has that," Toth said of the Croatian Eagles, who were formed in 1922.
"I look at it as we're lucky because in this day and age, everyone wants to play soccer and it has to make money. We're still one of those clubs that have it from top to bottom, and our Majors (team), they're there to kind of set the stage for the rest of the club."
2012 USASA Region II Open Cup qualifying tournament
Redmond Center in Bensenville, Ill. – April 14/15, 2012
First Round – April 14
AAC Eagles (IL) 7:1 Ann Arbor FC Elite (MI)
Croatian Eagles (WI) 2:0 RWB Adria (IL)
The two winners will play on Sunday, April 15 at noon for a berth in the 2012 Lamar Hunt US Open Cup.
KC Athletics (KS) 10:2 Cincy Saints (OH South)
Kansas City qualifies for the 2012 Lamar Hunt US Open Cup
Win & You're In – April 15
Croatian Eagles (WI) 2:0 AAC Eagles (IL)
Croatian Eagles qualify for the 2012 Lamar Hunt US Open Cup