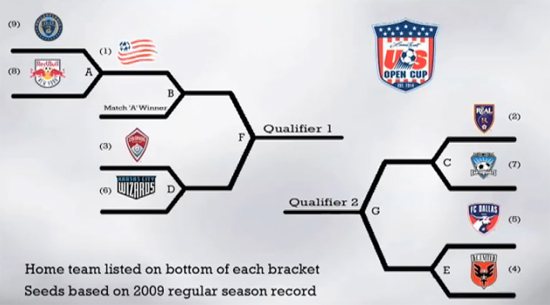 Times and dates have been announced for the first five matches of Major League Soccer's qualifying tournament. At the end of the competition, two teams will join six other MLS teams that automatically qualified (based on the 2009 regular season standings) in the Third Round of the Lamar Hunt US Open Cup.
The Philadelphia Union will get their first taste of a knockout competition when they travel to Red Bull Arena to face New York on Tuesday, April 27.  The match is scheduled for 8:00 p.m. and the winner will move on to host the New England Revolution, the 2007 Open Cup champions, on May 12.
Whoever emerges from the New England vs. New York/Philadelphia matchup will face the winner of the Colorado Rapids and the Kansas City Wizards. The Wizards will welcome the Rapids to Stanley H. Durwood Stadium on the campus of the University of Missouri-Kansas City on April 13 at 8:30 p.m. Eastern Time.
Steve Goff of the Washington Post reported that DC United will host FC Dallas at RFK Stadium in their play-in match on April 28 and DC later confirmed it. The winner of that game will face the winner of the Real Salt Lake vs. San Jose Earthquakes tie, with a place in the Open Cup on the line.
San Jose will host RSL at Buck Shaw Stadium in Santa Clara, Calif. on April 14. It will be the second meeting for the clubs at Buck Shaw in three weeks. On March 27, the defending MLS Cup champs beat the Quakes 3-0 on the opening day of the season.
MLS QUALIFYING SCHEDULE
(All times Eastern)
Game A: Philadelphia Union at New York Red Bulls, Tuesday, April 27, 8 p.m. at Red Bull Arena (Harrison, N.J.)
Game B: New England Revolution at Philadelphia or New York on Wednesday, May 12
Game C: Real Salt Lake at San Jose Earthquakes, Wednesday, April 14, 10 p.m. at Buck Shaw Stadium (Santa Clara, Calif.)
Game D: Colorado Rapids at Kansas City Wizards, Tuesday, April 13, 8:30 p.m. at Stanley H. Durwood Stadium (Kansas City, Mo.)
Game E: FC Dallas at DC United, Wednesday, April 28, 7:30 p.m. at RFK Stadium (Washington D.C.)
Game F: Game B winner vs. Game D winner (winner qualifies), home team TBD
Game G: Game C winner vs. Game E winner (winner qualifies), home team TBD

Note: All MLS qualifying must be completed by May 31