At this time last year, when in any normal year the US Open Cup would've been kicking off its opening round, Oyster Bay United FC did not exist.
Now, eight months after their entrance into the United Premier Soccer League (UPSL), they are set to make their debut in one of the oldest and most storied soccer competitions in the world. Playing their games at Theodore Roosevelt Memorial Park in the town of Oyster Bay on Long Island, New York, the club has become a part of the fabric of the community.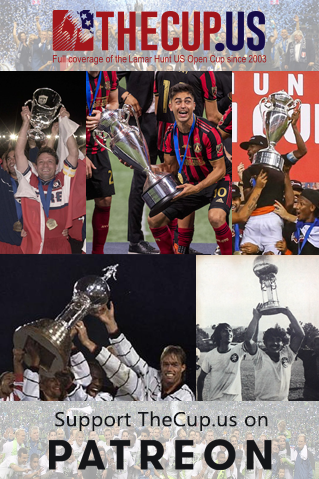 It is not uncommon to see a lot of fluctuation in soccer clubs in the lower division leagues in the United States. Clubs can form, move and fade away, but sometimes there is a resurrection of sorts, as a newly-rebranded club rises from the ashes of a former team's instability to try again.
Oyster Bay United was formed from the core of Queens Meadows FC, a team that was, itself, a rebrand of a previous UPSL team called Santa Fe NY.  Queens Meadows FC was successful on the field in the spring of 2021, finishing second in the American-Premier Division and making a run in the division playoffs, but struggled off the field.
In the midst of their successful spring season last year, the team found itself without an owner and on the verge of being removed from the league. It was bad enough that they didn't know from week to week whether they would have a field to play on for their next game. But by using some personal connections and with a stroke of luck, they were able to relocate to a new home field in Oyster Bay and start to build a fanbase to finish out the campaign.
But the club still needed an owner, so when team captain Dan Giorgi put the word out in the local soccer scene, Mark Colacioppo, whose son played at the youth club Giorgi worked for, got involved.
"I liked that the team showed the grit to finish the season without an owner and made it to the conference final," said Colacioppo.
After conversations with team staff, the new ownership was made official in the summer of 2021 and Oyster Bay United was born, ready to take on the UPSL Northeast and their first crack at the Open Division Local qualifying tournament for the US Open Cup.
Despite the newness of their branding, the team had no trouble readjusting to play in the league. After an opening loss to the eventual division winners New Jersey Alliance FC, Oyster Bay United went on to win their remaining nine games, finishing second in the UPSL American-Premier Division with a goal difference of +38.  They then made a run to the division playoff final, where they fell once again to the New Jersey Alliance.
In between dominating their regular season schedule, United, who were less than a year old, found themselves matched up with a New York team with a storied history that dates back to the 1940s in the opening round of the Open Cup qualifying tournament.
Northeast region teams began the competition in the second round, with Oyster Bay United taking on four-time Open Cup champions, New York Greek American SC. This first challenge was made tougher by registration issues leaving the team with only eleven players available, including two goalkeepers: keeper Kevin Shannon played the entirety of the match as a forward. To add to their struggles, one player arrived late and one was sent off in the second half, leaving them to play much of the game with ten men. Though they had no chance for reinforcements or fresh legs, the team preserved a scoreless draw for the full 90 minutes of regulation and 30 minutes of extra time, forcing a penalty kick shootout. Against all odds, Oyster Bay United emerged victorious, as their non-forward-playing keeper, Jean Carlo Perez, made three saves and they won 3-2.
In the next round, they faced another Big Apple club with a rich Open Cup history: three-time champion New York Pancyprian Freedoms. They earned a 2-0 win over the three-time Open Cup champions with two breakaway goals, one in each half of extra time.
That win put them into the final round against UPSL division foe Westchester United FC, who they handily defeated, 4-1.
Just four months after their founding, Oyster Bay United FC had qualified for the 2022 U.S. Open Cup, one of three teams from the UPSL Northeast to do so.
Colacioppo, for whom potential Open Cup participation was a big motivating factor to get involved, made it clear how much this tournament means to the team.
"The team really understands and appreciates the significance of being in a tournament like this; we talk about it a lot" said Colacioppo. " super excited to realize our biggest club goal to qualify for the US Open Cup."
He continued on and mentioned how good it felt for the team to win their last qualification match just days after losing in their UPSL conference final and to know they would be able to compete in this tournament in the spring.
Giorgi said qualifying for the Open Cup helped them forget the pain of that championship game loss.
"We were all buzzing.  It was crazy.  I'll never forget it," he said.
Both Colacioppo and Giorgi mentioned that the team's story could be a Netflix documentary series. But a natural disaster that showcased the grit of the team turned into the perfect storm with a passionate owner to provide stability and a chance to compete in one of the oldest and most storied soccer tournaments in the world.
"So many reasons and things that went wrong, each week not being sure if we would have a field to play on, so many reasons to give up but we never did; we found a field and a team owner," said Giorgi. "I'm really proud of my team for that."
Oyster Bay United FC will make their first-ever Open Cup appearance against the NPSL's Hartford City FC on Tuesday, March 22 at 7:30 p.m. at Dillon Stadium in Hartford, Conn. The match will be streamed on ESPN+. The winner will return to Dillon Stadium for Round 2 where they will take on Hartford Athletic of the USL Championship on April 7.