When David Beckham arrived in Los Angeles to join the Galaxy in 2007, the next game on the schedule was a US Open Cup match against the Richmond Kickers of the United Soccer Leagues. To see a player of his caliber, the one that ushered in the Designated Player era of Major League Soccer, make his debut in a Galaxy uniform on the road against a third division team in Richmond, Va. wasn't going to happen. The league wanted his first game in this country to be a major television event.
Times have changed.
On July 14, in a game that was only available to watch on YouTube, the latest international star to join MLS, Steven Gerrard, made his competitive debut for the LA Galaxy, on the road at Rio Tinto Stadium against Real Salt Lake. Unfortunately for the former Liverpool legend, he would taste defeat in his first competitive game as a MLS player, losing to RSL 1-0 on an 87th minute game-winner by Aaron Maund. Gerrard entered the game at halftime and created a few chances as he continued to work toward full match fitness.
Designated players for MLS teams in the Open Cup had been extremely rare for a while, but with the addition of the CONCACAF Champions League slot to the winner of the US Open Cup, more and more DPs have worked their way into tournament games as more teams are making the Open Cup more of a priority. Not to mention, there have been vastly more DPs created since 2007.
As of the Quarterfinals this year, Out of the 39 eligible designated players (excluding the newly-signed Frank Lampard, Andrea Pirlo, Canadian-based players and including Omar Gonzalez who recently had his status altered), 28 of them have played in at least one Open Cup game. Considering DPs are paid the big money to be a major contributor to the team's starting lineup in league play, it might be asking a bit much to think they would see time in an Open Cup game that usually falls in between two league fixtures, but we're seeing more and more of it.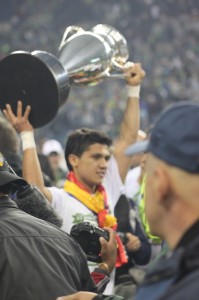 It's difficult to judge the quality of Open Cup gameday rosters and starting lineups because so much of it is on a case-by-case basis. If you have a league game a few days before an Open Cup game or have one a few days after, then the head coach usually has to get creative with who he puts on the field and when. It's part of managing a club at this level. If you combine the complication of international call-ups, it's hard to predict which players are going to see the field.
Of the designated players who have played in the US Open Cup since 2007, a few of them have made significant impacts.
The Seattle Sounders enjoyed a lot of success winning four Open Cup titles (2009-2011, 2014) and much of that was due to the help of DPs, but one stood out during the team's three-peat from 2009-2011. Before leaving Major League Soccer, Fredy Montero scored seven goals which is tied with Nate Jaqua for second in the Sounders' all-time Open Cup scoring chart (Sebastien Le Toux is on top with 11 goals). Montero scored at least one goal in every tournament he played in as he led Seattle to four straight Finals (2009-2012) something only two other clubs have ever done in the history of the tournament. (Stix, Baer & Fuller from 1932-37 and Bethlehem Steel from 1915-19) Montero, along with Sanna Nyassi remain the only players in the Modern Era (1995-present) to score more than one goal in championship games in a career. Montero scored the opening goals in the 2009 and 2011 Finals. The Sounders also received contributions from Alvero Fernandez who started five of seven matches during his time with the club, while Freddie Ljungberg's only Open Cup game was in the team's 2009 Final win over DC United.
Sounders midfielder Osvaldo Alonso used the Open Cup to springboard himself to earning a DP contract for the Seattle-based club. After helping the USL's Charleston Battery finish runner-up in 2008, he signed with the Sounders and helped them win three straight and finishing runner-up in 2012, leaving him as the first player in the Modern Era to play in five straight Finals. Not only that, but he played every minute of every championship game and later earned a DP contract in 2014 and led the Sounders to their fourth Open Cup title that year. He played all 90 minutes of the Final in 2014 and lifted the trophy for the fourth time after playing in a Modern Era record sixth championship game.
The most impressive single-tournament performance by a DP in the Modern Era comes from Dwayne De Rosario of DC United in 2013 who carried his club to the US Open Cup title despite finishing at the bottom of the MLS table that season. He started all five games for United that year, scored five goals (including the Modern Era's first hat trick by a Canadian) to help DC win their third title as one of the biggest underdog stories in tournament history. For his efforts, De Rosario was named TheCup.us Player of the Tournament.
There have been some impressive contributions from some big-name newcomers in 2015. Kaka scored a goal in his Open Cup debut for Orlando City in a 2-0 win over the Columbus Crew and then started and played the entire game in their 3-1 road loss at the Chicago Fire. Another standout was Kaka's teammate Carlos Rivas who, in his tournament debut, became the first player in the Modern Era to score three penalty kick goals at the Charleston Battery (USL). Oddly enough, the match finished 4-4 and ended up going to penalty kicks, but when his turn came up, his fourth trip to the spot, he had his attempt saved. Rivas followed that up in the next round with a goal in Orlando's 2-0 home win over Columbus.
Outside of Seattle, the DP duo that has made the biggest impact has been Maurice Edu and Cristian Maidana of the Philadelphia Union.
Here are the best current designated players in US Open Cup play:
1. Cristian Maidana / Maurice Edu (Philadelphia Union)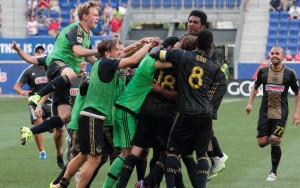 Among the current DPs with Open Cup experience, there's no contest that this Philadelphia Union duo is the best of the bunch. Maurice Edu has played every minute (960 minutes played) of every Open Cup match for the Union in the last two years (nine games) and on top of scoring a pair of goals and playing solid defense, Edu has also scored on all three of his penalty kick attempts in the team's three successful shootouts.
While Cristian Maidana hasn't quite been the iron man that Edu has been for the Union, he has played in every game, starting eight of the nine contests (835 minutes played) and dishing out two assists. The two have led the Union to a 5-1-3 (3-0 in PKs) record over the last two years, including two straight Final appearances.
2. Diego Valeri (Portland Timbers)
Diego Valeri has started five of the Timbers' six Open Cup games over the last three seasons. The Argentinian has scored three goals, all against MLS opposition on the road, while helping Portland to a 3-2-0 record and helping the team reach a franchise-best Semifinal appearance in 2013.
3. Obafemi Martins – Seattle Sounders
Martins' first taste of the US Open Cup was in 2013 when he came off the bench late in the Sounders' upset loss to the Tampa Bay Rowdies (NASL). That snapped the club's all-time record 22-game unbeaten streak, but he produced in his limited minutes in last year's Semifinal and Final. He scored a goal and dished out an assist in the final 16 minutes of Seattle's 6-0 win over the Chicago Fire in the Semifinals. Next, he came off the bench in the second half of the championship game and assisted on Clint Dempsey's game-winner in the 101st minute of extra time and then clinched the Sounders' fourth trophy with an insurance goal of his own in the 114th minute
4. Matt Besler (Sporting Kansas City)
The U.S. international defender has played three games in 2015 since recently joining the DP club. He has started all three and Sporting Kansas City is 3-0-0, including a home shutout against the USL's Saint Louis FC in Round 4. His defense led Sporting to the Final and has made goalkeeper Tim Melia's job a lot easier. In four games this year, Melia has only faced 22 shots and of those shots, he's only had to make nine saves.
5. Joao Plata – (Real Salt Lake)
One of the top young players in MLS is one of the main reasons Real Salt Lake reached the Semifinals for the second time in three years. He has started all three games this year, playing in all but seven minutes. While he has just one goal and one assist to his credit (both earned in the team's 2-1 home win over the Seattle Sounders 2 (USL) in Round 4, he has been a thorn in the side of opposing defenses and has been a big part of the reason why RSL are 3-0-0 with back-to-back shutouts over the Timbers and the Los Angeles Galaxy.