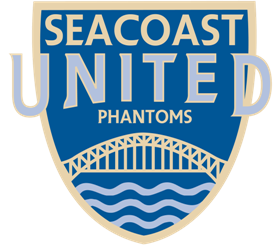 The First Round of the Lamar Hunt US Open Cup was held at Buckingham Browne and Nichols Field in Cambridge, Mass. The match was between the USASA's Global Premier Soccer (GPS) Massachusetts and the visiting side, Seacoast United Phantoms of the PDL. The Phantoms, making their first appearance in the tournament since 2006 when they were a USL-2 club (Div. 3), got a late winner from Sofiane Tergou to hand GPS its third straight loss in the competition, 2-1.
The Phantoms advance to Round 2 where they will travel to Oklahoma to take on the USL's Tulsa Roughnecks.
The match began on a clear, crisp, New England evening, not far from the banks of the Charles River. The match began highly contested with both teams playing evenly. The home team struck first in the 15th minute as Harris Smirko delivered a corner kick that was nodded in by GPS defender Roy Sandeman. The rest of the first half continued to be back and forth. GPS got an impressive performance by their goalkeeper, Colin O'Donnell, who finished with three saves.
The second half started off very heated. Both teams were loudly going back and forth at one another. The game was very physical and both teams accumulated several yellow cards. There were 10 yellow cards handed out over the course of the game, but the biggest came in the 67th minute when Terence Carter of the Phantoms received his second yellow card and was sent off. Carter, who scored both goals in the Phantoms' 2-0 season-opening win over the Boston Rams over the weekend, would leave United shorthanded up top.
A few minutes later, Seacoast was very fortunate to earn a penalty for a hard tackle in the box. The spot kick was expertly taken by Seacoast substitute and former Michigan Bucks forward Anthony Grant. Tempers continued to flare throughout the half.
In the 88th minute, Sofiane Tergou would net the eventual game winner for Seacoast after some impressive ball movement. GPS fought valiantly for the equalizer in the final minutes but their chances took a hit when Samuel Brill was sent off for his second yellow card in stoppage time. In the end, the referee blew the whistle and the Seacoast Phantoms were the winner.
The Phantoms hit the road to play the Tulsa Roughnecks on Wednesday, May 20 in Round 2. The Roughnecks enter the matchup 2-4-2 in the USL standings.