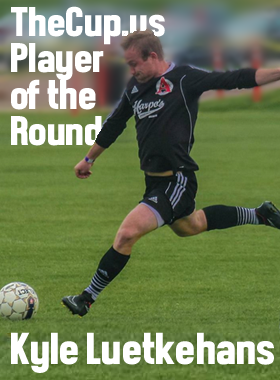 Kyle Luetkehans of Harpo's FC dished out two assists to lead the Boulder, Colo. club to a 2-0 win over the Kansas City Athletics in the Lamar Hunt US Open Cup Preliminary Round. The midfielder's performance was enough to earn him TheCup.us Player of the Round honors.
The award is voted on by the staff at TheCup.us and a select of panel of members from the North American Soccer Reporters.
Luetkehans edged out Harpo's FC goalkeeper Zac Gibbens, who made five saves in the shutout win. Cal FC's Danny Barerra, a two-time winner of the award in 2012, finished third after leading his team to a 2-1 win over San Francisco City FC.
Luetkehans, who played his college ball at the University of Vermont, helped open the scoring in the 50th minute when he fed Dan Campbell a square ball to the middle of the field. The captain found space and drove a low shot into the back of the net on the edge of the penalty area.
In the 70th minute, clinging to a 1-0 lead, Luetkehans stripped the ball at midfield and played a long, floating ball over the defense to the feet of Shane Wheeler, who also received Player of the Round votes. Wheeler, who is a co-worker with Luetkehans in their day job, brought the ball down, dribbled around onrushing goalkeeper Steven Grow and slotted it home to give the home team a two-goal cushion. (CHECK OUT THE HIGHLIGHTS BELOW)
Harpo's FC have played the Athletics three times in the last two months and Luetkehans has played a key role in both of his club's wins. He scored a hat trick in a 4-1 win over KC in the group stage of the USSSA qualifying tournament.
"Kansas City is a talented team but after having played them three times now in the last month or so, we've gotten to understand their style," said Luetkehans. "We knew they were going to try to counter us so as long as we made sure we kept a disciplined midfield and back line during transitions, we would be in a great position."
The Chicago-area native has taken an interesting path to Harpo's FC and helping them become the first United States Specialty Sports Association (USSSA) team to win a US Open Cup game. After suffering an injury during his senior year at Vermont in 2010, he left for Europe determined to find a team to play for. After a stop with Mjondalen in Norway and training with a 5th division club in Germany, he impressed on trial with Kemi Kings in Finland and immediately signed and was on the field in the team's next game. After playing the final third of the season for the Kemi Kings, he wasn't able to help them avoid relegation (they have since been promoted again), and he was left looking for a new club.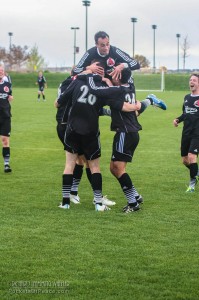 His performance was enough to earn him a trial with HIFK in Helsinki (Finland) and after scoring a goal in a preseason friendly, he was told he had earned a contract. Three months later, after a number of visa issues, he eventually put pen to paper shortly before the first game of the season and played throughout the entire campaign. The following season, he signed with another Helsinki club, GrIFK, but visa issues limited him to just half a season with the club.
After leaving Finland, a former assistant coach at the University of Vermont, Ross Duncan, put him in touch with his former club, the Brisbane Strikers in Australia. After a successful trial, Luetkehans signed with the club. He followed in the footsteps of former Vermont teammate and current Harpo's FC teammate Justin Geibel, who also played in Australia. Two other Harpo's players also have experience playing Down Under, although with different teams, Aaron Woodruff and Corey Cullen. None of those players knew each other prior to joining Harpo's FC.
A family emergency brought Luetkehans back to the United States and he settled in Denver and walked away from playing professionally.
"I stopped playing a few years ago because I was ready to start a new chapter in my life," said Luetkehans who currently works full-time for a technology company. "I really enjoy the life I've found in Denver and haven't seriously considered going back into the pro game for a few years. That being said, I love the game and can never stray too far from it. Playing the game you love for a living is an incredible experience and if the right opportunity came across I'd give it some serious thought."
He didn't stay away long, as he signed with Oskar Blues FC in the second-tier Premier Arena Soccer League (PASL), which was run by current Harpo's owner, head coach Johnny Freeston. The following season, Freeston launched Avery Brewing FC, signed Luetkehans and later invited him to play for his outdoor team, Harpo's FC.
While he's not earning a paycheck playing for Harpo's FC, it doesn't make the experience any less special.
"I've never been on team quite like Harpo's," said Luetkehans. "It's not often the guys you play with are some of your best friends and even more rare that they can all ball at such a high level. We all owe a lot to Johnny (Freeston) for making this happen. It couldn't have been done without him."
Josh Hakala is a sports broadcaster and the creator/senior editor of TheCup.us. You can reach him on Twitter @USOpenCup or on his personal account @JoshHakala. Anyone interested in contributing (writing, research, website design), sponsoring TheCup.us, or if you have any questions or have some historical information about the US Open Cup to share, please email him here.
MORE:
Meet the Underdogs: Harpo's FC transitions from beer league team to USSSA champions, US Open Cup debutants